Providing loving pet-care and pet sitting in Muncie, Indiana (and surrounding towns) is one of our top priorities.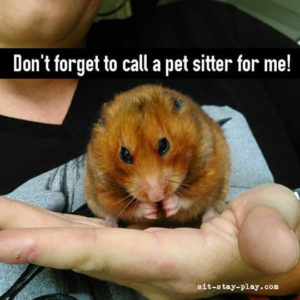 We understand that your pet is not just a "pet"; he's a member of your family that you love.
Your fluffy bundle of love might be a rescued dog that has "issues". She might be kitty cat that likes to sit on your lap while you watch TV or nuzzle in your neck when you sleep at night. Or it might just be a little hamster that likes to take snacks from your fingers and give you kisses on your chin.
Regardless of what type of pet you have, pet sitting in Muncie, Indiana is easy to schedule, easy to use and gives you peace of mind. Your pets will be safe and happy while you're gone.
That's why we take our responsibility serious and we'll do everything in our power to provide the same care you would while you're not home.
Our pet sitting services are an excellent alternative to boarding your pet. Busy professionals, families, singles, retired individuals and even business owners can benefit from our convenient services.
Pet Sitting In Muncie, Indiana – Why Our Pet Sitting And Pet Care Services Are Good For You:
Convenient for people with multiple pets;
No last-minute vet trips prior to us starting services;
We come to you! No need to take your pet anywhere; and
Updates are as easy as sending an email or text
Helping you to ENJOY being gone is just another part of what we do!
Our pet sitting, dog sitting and cat sitting services are available in Muncie and all of east central Indiana.
Pet parents with zip codes including:
46011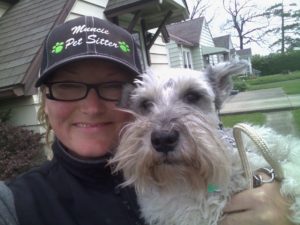 46012
46016
46070
47302
47303
47304
47342
47383
47368 and
47396 feel free to contact us for your pet care needs, we'd love to help.
Our Pet Sitting and Pet Care Services Are Good For Your Pet(s)
Your dog won't get stressed out by the barking of multiple dogs;
The kitty will have the reign of the house instead of being confined in a small caged area at a kennel or other facility;
Your dog or cat can stay

on their own schedule

,

eat their own food

,

sleep in their own home

— which is a big benefit of using a pet sitter; and
If you have a pet that has medical or behavior issues we can help by using positive reinforcement and management techniques that will help your pet stay relaxed. Feel free to let us know what works for your pet and we can follow those procedures.
Here's a short testimony from one of our clients…
"Kelley's high level of professionalism is backed up by her extensive knowledge of animal care and a genuine desire to treat my pets well in my absence. I never worry about my pets or my home while I am gone, and always return to a clean house and happy pets. She follows through on all the instructions we discuss before my departure and keeps in contact while I am out. Now that I've found Kelley and sit-stay-play, I can't believe I used to put myself through the hassle and worry of trying to schedule friends to stop by in my absence and train them on the basic care of my pets, something they generally weren't good at!" …by Megan McNames
 Some of the things our pet care providers can do…
Feed your pets;
Give pets fresh water;
Give treats;
Exercise your pet (maybe a short walk or playing fetch if you have a dog, or playing with a kitty toy or cat nip for our kitty clients);
Give medicine (oral, injections, topical) if needed;
Clean out litter boxes, cages, kennels & replacing with new litter/paper/straw, etc.;
Water your inside & outside plants;
Check your heat or air conditioner to make sure the home is comfortable for your pets;
Bring in mail and other parcels;
Check perimeter of home to make sure your property is secure;
Give lots of TLC to your pet; and
Leave a daily log of what we did on our visit & how your pet(s) acted during that time if you wish.
We've been pet sitting since 2008 and have many satisfied clients. Feel free to read our reviews. We're happy to supply references if you have further questions about our services, feel free to send an e-mail.
Prices For Pet Sitting In Muncie, Indiana

Pet sitting is a luxury service that's worth the price. You'll get our commitment and promise that we'll do our best to keep your pet happy and healthy.
Most visits start at $19 each (up to 3 pets). Additional fees (and gas fees) may apply thereafter. Discounts may be given for pet parents that use our pet care services exclusively and for those that reserve and pay for services ahead of time.
Looking forward to meeting you,
Kelley Stewart, CEO|Pet Sitter
sit-stay-play In-home pet sitting & more.LLC
"Your pet sitting, dog walking, poop scooping specialists!"
Serving Muncie, Anderson, Hartford City, Albany, Yorktown, east central Indiana