Hey there, thanks for visiting this page. If you're a pet parent, please know that we can help with many things pet related and we'd love to be your 'go to people' when you need to book a puppy nail trim.
And while we're here, we know you may not need to get your puppy's nails looked at right now but when you do, call sit-stay-play if your regular groomer or veterinarian can't fit you in! But it's not just pet nail trims we offer…read on and find out more!
We know so many things have changed since March 2020 because of covid, quarantines and social distancing but people are still adopting pets, thankfully.
However, many times new adopters run into problems when they contact groomers and veterinarians because they're so far backed up – still. Appointments may not be available for one, two or even three months and pet services like nail trims get pushed to the back burner. So what's a dog mom or dad supposed to do?
Contact sit-stay-play, we make house calls.
Don't feel safe having someone in your home? That's ok, we can do the service outside, on your porch or even in your driveway.
And as a bonus, sign your puppy up for our FREE birthday club? We send birthday cards and gifts out to the pets in our club!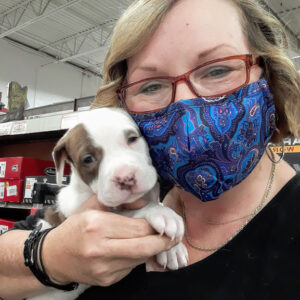 3 Awesome Benefits of Booking an In-home Puppy Nail Trim
It's safe. We practice social distance as much as possible. We wear a mask and sanitize our tools (and hands) before and after we work with your puppy. Puppies under the age of 16 weeks or those that haven't had all of their vaccinations run the risk of catching things like parvo if taken out to public settings where unknown dogs are or have been present. Letting us come to you alleviates that risk.
It's convenient. We come to you. Schedule an appointment when it's convenient.
It's affordable. We charge $15 for the first pet and $10 each additional however, if you use the code PUPPY15 you'll get 15% off your first puppy nail trim visit.
But it's not just puppies we work with. Cats, bunnies, guinea pigs, hedgehogs and even ferrets benefit from home visits.
Our services are available in Muncie, Yorktown and Anderson, Indiana (and most surrounding cities).
Getting your puppy on a regular schedule for nail trims will help him or her learn that having their feet touched is ok. Plus, it helps with socialization and reinforcing good behavior.
We look forward to meeting you and your puppy (or other pet),
Kelley Stewart, CEO|Pet Sitter
sit-stay-play In-home pet sitting & more.LLC
"Your pet sitting, dog walking, poop scooping specialists!
P.S. Have an upcoming trip and not sure who will watch your puppy? Contact us. We've taken care of hundreds of puppies since 2008!
P.P.S. Did you know that we've been doing low-cost pet nail trims at local Tractor Supply stores since 2010? Nail trims at these events are $10 per pet (or $5 per pet if you're over 55 years old). See upcoming dates and locations here.