Why Schedule Pet Waste Removal Services?

Our pet waste removal services are valuable to apartments, condominiums, dog parks, HOA's and businesses and we bring added value to whatever type of property you have. Pricing is based on the size of the property and how frequently you'd like services. We'll walk the property, pick up any waste and take it all with us when we're finished.
Contact us today if you'd like to get a complimentary quote on this service.



Cat Box and Cage Clean-outs



Kitty box stinky? Health reasons prevent you from cleaning the litter box?
Don't want to scoop the cat box or cage? We can change out the entire cat box or do scooping and refilling and clean up the area. 
This service is great for pregnant and nursing moms. Doctors recommend that if you're pregnant to refrain from cleaning litter boxes because the smell can be noxious and dangerous to you and your baby.
Poop Scooping - Residential
Cat Box and Cage Clean-outs
Service Area
Delaware County, IN (Muncie)

Madison County, IN (Anderson)

Most towns within 30 miles of Muncie and Anderson

Other areas upon request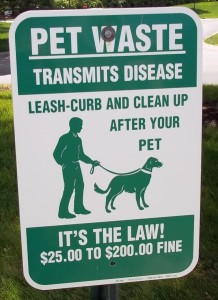 Interesting Facts About Pet Waste...
Parvovirus is spread to dogs by direct or indirect contact with dog feces, it is very contagious.  In fact, studies have shown that the virus can survive in feces and other organic material such as soil for over a year. It survives extremely cold and hot temperatures.
Campylobacter germs are found in animal feces.  This germ causes gastrointestinal symptoms. It's usually not dangerous, but can cause severe illness in people with weakened immune systems.
Leptospira infection is caused from contact with water, food, or soil containing urine from infected animals. This can be very serious if left untreated.
Salmonella infection. People get this often-severe gastrointestinal infection via contact with animal feces. It can cause severe kidney damage to young children.

 
Other parasites of cats and dogs:
Tapeworm. A person can get tapeworm by swallowing an infected flea.
Hookworm. Hookworms are common in tropical and subtropical areas. Hookworms infest soil contaminated by animal feces. Humans get infected by walking on contaminated soil and by having direct contact with the dog feces or worms. Heavy infections can be serious and can threaten the dogs' life.
Cryptosporidiosis. In humans, this parasite causes mild to severe intestinal symptoms like diarrhea. Crytosporidiosis is dangerous to people with weakened immune systems.
Ringworm isn't a parasite, but a fungal infection that forms a ring-shaped rash on the skin or a bald patch on the scalp. Ringworm is transmitted by contacting an infected animal directly.
Thanks for reading. We're looking forward to helping you out with your residential or commercial pet waste removal needs!
Kelley Stewart, CEO|Pet Sitter
sit-stay-play In-home pet sitting & more.LLC
P.S. Don't forget!!! Book weekly spring poop scooping visits starting after March 4 and receive 10% your first month of service – book now – use promo code SPRING10 for this offer
P.P.S. Didja know we have a birthday club especially for pets?!? Sign your pet up today and your buddy may receive a birthday surprise, an invitation to a birthday party or other gifts…click here to sign up.