Imagine it's Valentine's Day (or any day you want to get out of the house and be free from pet care duties). You have a romantic evening planned with your sweetie and you make plans to book a cat sitter in Muncie.
Once you've got everything squared away and your pet care forms complete, your consultation is set and your cat sitter arrives.
She's immediately greeted by your lovable and very vocal kitty, Smokey. He begins zipping in and out of her legs. He swishes his tail and looks up at your cat sitter with adoring eyes. When she sits down he plops in her lap. Sounds like your kitty is happy, right? This is exactly what we like to see – happy cats and happy cat guardians!
Our cat sitting services are available for any holiday, including Valentine's Day. We take care of cats in the Anderson, Yorktown, New Castle, Pendleton and Hartford City, Indiana also.
A happy cat is what I see every. single. time I visit Smokey, the beautiful grey kitty in the video below.
He's always happy I visit and can never resist laying on my lap. He has oodles of love to give and I'm happy to be on the receiving end!
Watch this love filled video which shows exactly how Smokey appreciates my visits…
Do all of the cats in our care act like Smokey? No, and that's alright.
What if My Cat isn't Friendly?
When we encounter shy cats, we give them space.
Chasing them and hunting them down will often cause more harm then good so we'll make sure they're eating and using the litter box.
How to Book a Cat Sitter in Muncie or Other City
Want to schedule cat sitting services. Just click this link and get started!
Benefits of Using A Professional Cat Sitter

Here are 7 benefits to using a professional cat sitter through sit-stay-play In-home pet sitting & more.LLC:
Insulin injections aren't a problem;
Oral and topical medicine treatments can be scheduled;
We know how to interact with shy kitties;
We clean litter boxes regularly;
Your cat stays comfy at home, without other cats to bother him;
There's always a back-up plan if your sitter can't visit; and
Updates are just a call or text away!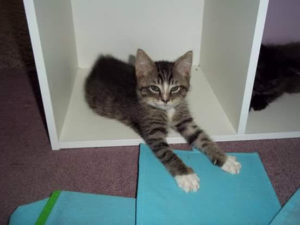 Keeping your cat home is a good choice.
Why? Because most cats prefer to be home where they're comfortable. Keeping them home is less stressful on them, especially older cats.
Book a cat sitter in Muncie, Anderson, Yorktown, Daleville, New Castle, Pendleton, Fishers, Carmel, Noblesville and Indianapolis areas.
Thank you,
Kelley Stewart, CEO|Pet Sitter
sit-stay-play In-home pet sitting & more.LLC
P.S. Book a Muncie cat sitter in Muncie for spring break, summer and any holiday quickly. Click this link to request pet care services.
P.P.S. Check out these Valentine's Day articles:
Is Your Valentine Your Dog? (Don't worry, we understand, lol)
A Treat for Your Furry Valentine