Farm animal care is something you should plan for in case you want or in case an emergency arises.
If you've been left scratching your head trying to line up someone, why not give sit-stay-play In-home pet sitting & more.LLC a call?
Don't let the name fool you. Not only do we work with dogs and cats, but we also care for livestock, horses, backyard chickens and even muck stalls when necessary.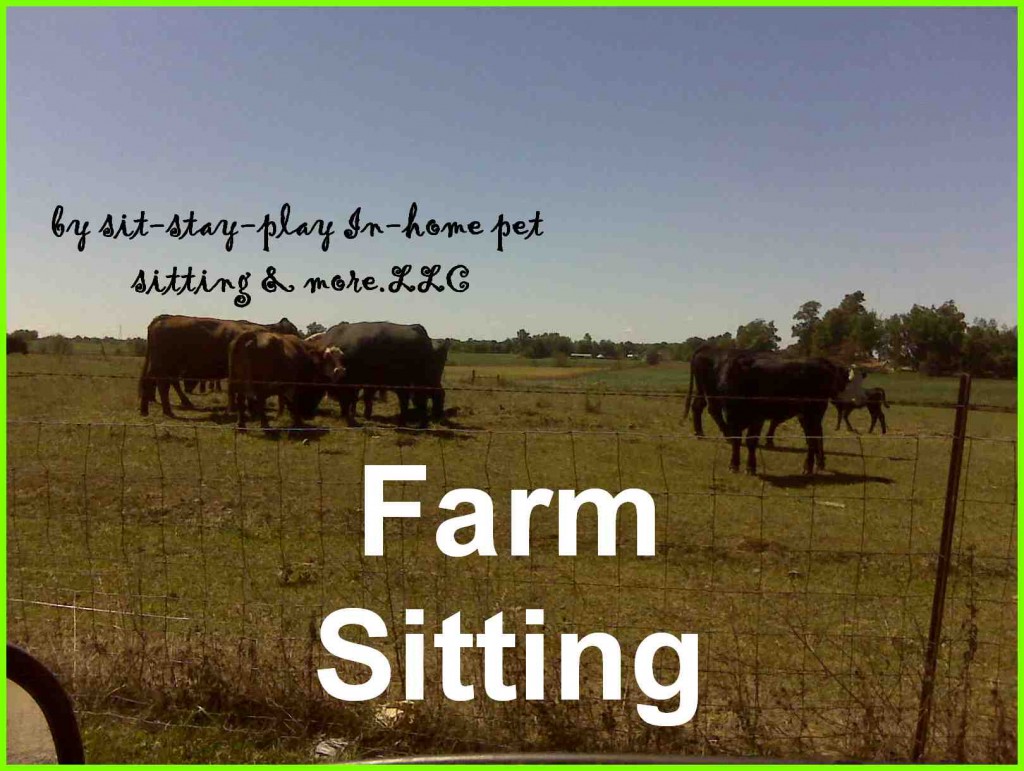 Is Farm Sitting Similar to Pet Sitting?
Yes and no. A farm sitting service has similar tasks in regards to the initial consultation or Meet & Greet, key and payment requirement, scheduling of services and completion of pet care forms. However, in the case of farm or livestock animals, the jobs are usually much different.
Initial Consultation for Farm/Livestock Clients
All of our clients, regardless of the types of pets or animals they have go through an initial consultation. This gives us time to see if we're up for the job and allows you time to get comfortable with us handling the responsibility.
Type of Animals We Care for Include
Cows, chickens, horses, donkeys, pot-bellied pigs, goats, alpacas, turkeys, dogs, cats, birds, fish, exotics and small caged pets.
Typical Farm Animal Care Tasks We Perform
Feed
Water
Apply fly spray when necessary
Administer medication, supplements, minerals and vitamins
Rotate animals in pasture/rotate flocks
Collect eggs
Clean stalls/pens/cages
How Do We Determine Price
Price is based on the number of visits per day, visit length, complexity of job and distance. In general, prices start at $55/hour.
From a Client…"My husband and I love to travel but haven't been able to for quite some time! We're so happy that we found Kelley because now we can leave our horses, dogs and cats and we know they'll be fed and she won't let their water freeze during cold spells." Sara & Roger
Call sit-stay-play In-home pet sitting & more.LLC to take care of your farm. We're available 365 days a year, rain or shine!
If you have livestock or farm animals near Muncie, Yorktown, Anderson, Hartford City, Albany, Daleville or Yorktown and you need farm sitting, call us at 765-744-5688 or fill out this service request form.
Thank you,
Kelley Stewart, CEO|Pet Sitter
sit-stay-play In-home pet sitting & more.LLC
"Your pet sitting, dog walking, poop scooping specialists!!"
P.S. Are you on Facebook, Instagram or Twitter? Connect with us.