Hello and welcome to our website…on this page you'll find information about sit-stay-play's low-cost pet nail trim events, our events at the Muncie Delaware County Senior Center and our in-home nail trim services.
Scared/Anxious/Fearful Dogs
If you know your dog freaks out, thrashes around and makes it difficult for us to trim their nails, PLEASE contact us and set up an appointment. We'll block off time towards the end of our event to help minimize wait and stress on your dog.
We reserve the right to stop or refuse service for the safety of the pet/people.
COVID SAFETY GUIDELINES
#1 – Due to the rise in Covid-19 infections, everyone that brings a pet into Tractor Supply is REQUIRED to wear a mask or face covering while in our area unless there's a health condition.
#2 – Social distancing is still required. Customers should sign in and step away from the table to give room for other people to sign up. Please keep social distance while waiting in line.
#3 – Kelley CANNOT sit on the floor for nail trims now so ALL pets will either need to be held or placed on the table for the service. Larger dogs may be able to stand on the floor as long as their owner can hold them and Kelley may be able to bend over and trim their nails.
**If you (or anyone in your home) is sick, has a cold, cough, fever or a current POSITIVE covid test please DO NOT come into the store with your pet – come back when you're healthy.
CONTACT TRACING – These safety protocols are put into place so if and when we have to do contact tracing all of our customers can be reached as quickly as possible.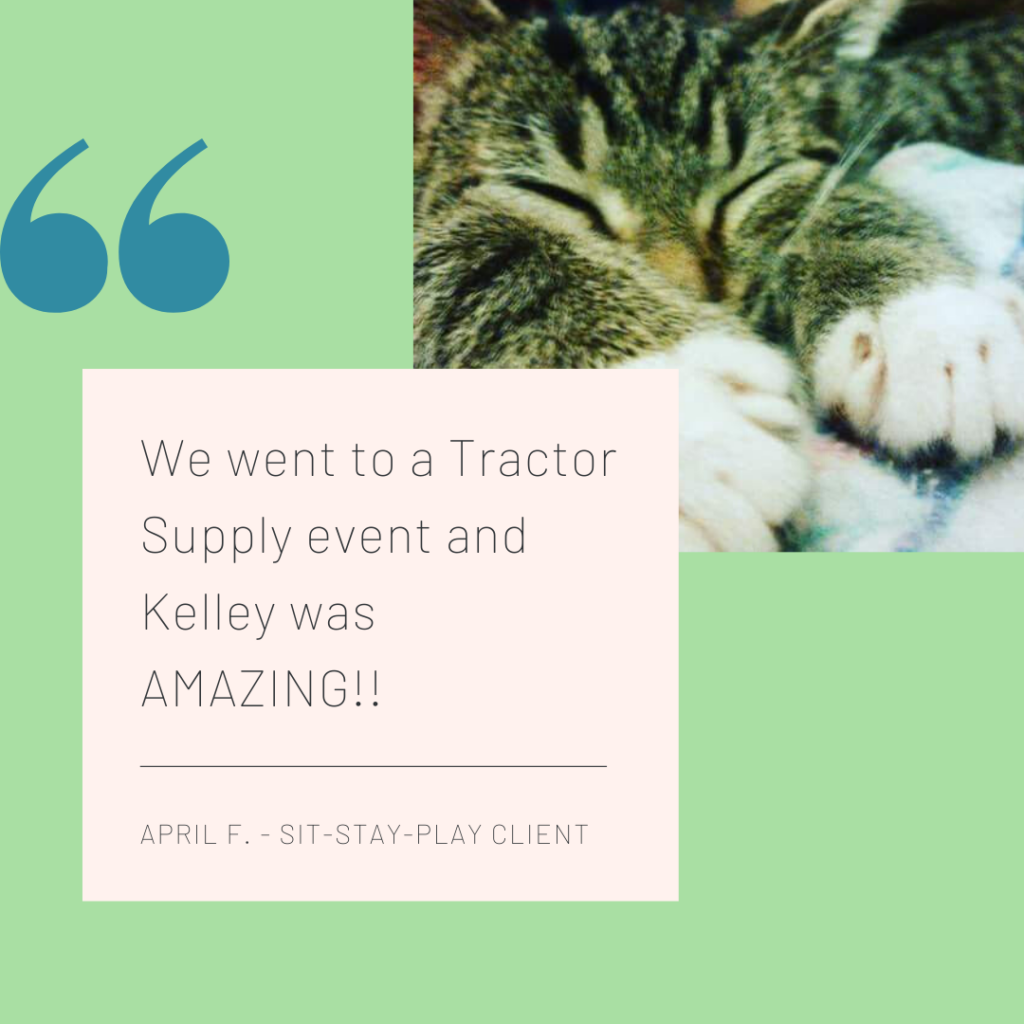 Our low-cost pet nail trim events in Muncie, Anderson, New Castle and Greenfield, Indiana are great for people like you that want a consistent and affordable pet nail trim option.
Don't let your pet suffer with long nails. Read this article to see some examples of what can happen when your dog or cat doesn't have regular nail maintenance.
2021 Low Cost Pet Nail Trim Events Dates & Locations
Muncie Tractor Supply
3601 W. McGalliard Rd.
*Face masks required while in our area.
Anderson Tractor Supply
6818 S. Scatterfield Rd.
*Face masks required while in our area.
Sun., Jan. 2 | 1:30-3:30p
Sun., Jan. 16 | 1:30-3:30p
New Castle Tractor Supply
3000 S. Memorial Dr.
*Face masks required while in our area.
Greenfield Tractor Supply
1645 North State Street
Greenfield, IN 46140 – (317) 468-0980
*Face masks required while in our area.
Our services are done on a WALK-IN basis to make it easier for people that can't get into a vet or groomer. However, we do take appointments now. If you'd like to get an appointment just send a request – select Tractor Supply Appointment, and we'll get your email and send a Chase/Zelle quick pay invoice. Once you pay it, then you can get your choice of available times.
We work with all types of pets, including dogs, cats, rabbits, hedgehogs, guinea pigs, pet rats, turtles and even ferrets! No breed or species will be turned away as long as they're healthy and friendly.
Customers can bring their friendly and healthy pets to any of our low-cost pet nail trims at the Tractor Supply locations in Muncie, New Castle, Anderson and Greenfield. 10% from our nail trims is donated to Boston's Fund at Northwood Animal Hospital. This fund provides financial assistance for emergency veterinary services. Click here to read about VCA Northwood Animal Hospital.
Want to know who does these nail trims? Watch this short (impromptu) video with one of our nail clients at one of our events at Anderson Tractor Supply…it's a little off-the-cuff but it's real 🙂
Free Pet Nail Trims for People Over 55*
*Beginning January 2021, people over 55 can come to our FREE events at the Muncie Delaware County Senior Citizen's Center 4 times per year (see section below).
On occasion we will host FREE events for seniors at Tractor Supply so watch this page and follow our Facebook page for those dates!
Muncie Delaware County Senior Citizen's Center
People over 55 can bring their pets to the Muncie Delaware County Senior Citizen Center and get their nails done at no charge. We host these events four times a year – weather permitting.
People under 55 can also come to the Senior Center events but the fee will be $7/pet.
The Senior Center is located at 2517 W. 8th Street, Muncie, IN, phone is 765-289-0844.
2021 Nail Trim Dates at the Senior Center
Friday, March 11 |10a-12p
Friday, June 10 | 10a-12p
Friday, Sept. 9 | 10a-12p
Friday, Dec. 9 | 10a-12p
Payment Methods
Pay with cash or check (with government approved ID). Bring correct amount in case we can't provide change. Pre-pay with Chase/Zelle to get an appointment.
House Calls
Have a pet that you can't bring into the store? Schedule an in-home nail trim.
In-home pet nail trims start at $15 for the first pet and $10 each additional for trimming only. Add $5 per pet for grinding.
There is a small gas fee for visits that are outside of our main service area. Discounts may be given for people over 55 that need a house call.
Kelley Stewart, CEO|Pet Sitter
sit-stay-play In-home pet sitting & more.LLC
Serving Muncie and Anderson, Indiana and most surrounding cities.
P.S. Are you on Facebook? Connect with us! And don't forget to sign your pet up for our FREE pet birthday club! We send birthday gifts and surprises…sign up here.
P.P.S. Don't miss our spook-tacular Muncie Howl-O-Ween party on Oct. 24 at Emerson Dog Park in Muncie. Go to our FB page to learn more – click on EVENTS to see it.