Muncie cat adoption is easy with the numerous places with felines looking for their forever homes. Muncie has three great places that work hard to find homes for abandoned animals and those that are surrendered by their owners. Please adopt from one of these places and help them be able to help other animals. We love it when people choose to adopt versus buy a cat from a pet store.
Adopting a cat or kitten in Muncie is pretty easy. This article will give you the names of local animal shelters and rescue organizations.
Muncie Cat Adoption Made Easy

Muncie Animal Shelter
The Muncie Animal Shelter (MAS) is at 2401 S. Gharkey St., Muncie, IN 47302. There phone number is 765-747-4851.
MAS usually has lots of cats and kittens up for adoption and love having volunteers.  If you don't find the kitty you're looking for,  maybe you could volunteer and spend time with the babies waiting for forever homes.
Visit MAS facebook page here.
Side note: New adopters of a MAS animal can receive a 50% pet care service from us. Visit this link to see how to qualify: https://sit-stay-play.com/muncie-animal-shelter-certificate/.
Action For Animals
Another place for Muncie cat adoption is Action for Animal (AFA). There phone number is 765-741-7858.
AFA usually has many cats in foster homes but you can visit their Facebook page or their website to see a current losing of all the cats they're helping.
Animal Rescue Fund
Animal Rescue Fund (ARF) has dozens of kitties waiting for new homes. Many of their cats are long time residents. They rescue cats all the time and constantly are looking for families that want to adopt a new family member.
ARF address is 1209 W. Riggin Road, Muncie, IN 47303. Their phone number is 765-282-2733.  Visit their website and facebook page.
Tips For Success
Once you've decided to add a kitty to your home,  here's some things you can do in advance to make the transition for your new cat easier:
get a cat carrier for transporting
set the litter box, food and water bowl in a quiet room
put cat toys and treats on the floor
Keep the cat in this quiet room for a day or two so he relaxes and doesn't spook and hide under a bed for a week
Leave the cat carrier open so she can hide in it if she feels threatened
Put a blanket or towel in carrier as a cushion
Buy a small bag of cat food used in shelter and either mix that with food you're buying or keep her on that
Try and user the same cat litter and slowly transition to the kind you want to use
Place an extra litter box in another part of your house. The rule of thumb is one extra box as the number of cats you have. So one cat? Two boxes.  Two cats? Three boxes.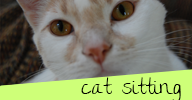 We applaud your cat adoption idea. So many kitties need loving, forever homes. You are helping to free up one more cage at the shelter so another kitty can use it; you're helping to save two lives with your adoption!
When you adopt your new cat, please make sure to be his guardian at all times. Make sure children don't abuse your new kitty and be sure to get your new house member spayed or neutered, so you can save even more lives.
Providing cat trees, scratching posts and even building an outdoor cattery is a great way to make sure your cat stays active and healthy. Toys such as string, feathers, balls, milk rings, cardboard toilet paper tubes all make fun toys for your new kitty.
And last but not least, hire a cat sitter when you need to go out of town. Cats are like dogs and miss their people when they're gone. They get into normal routines just like dogs also. A cat sitter will help give you peace of mind and will help make sure your kitty gets love while you're gone, the litter box is cleaned and he's fed and given fresh water daily.
Good luck with your new kitty,
Kelley Stewart, CEO|Pet Sitter
sit-stay-play In-home pet sitting & more.LLC