So you've adopted a new pet from Muncie Animal Care & Services…congratulations! You've made an excellent life-saving decision and we want to say thank you by giving you a gift.
Did you know…companion animal euthanasia rates here in America are at a staggering number but thanks to you, one more pet will walk out alive. Also, your decision has enabled Muncie Animal Care & Services to free up a cage or kennel so they can help another needy pet; you should feel happy about that!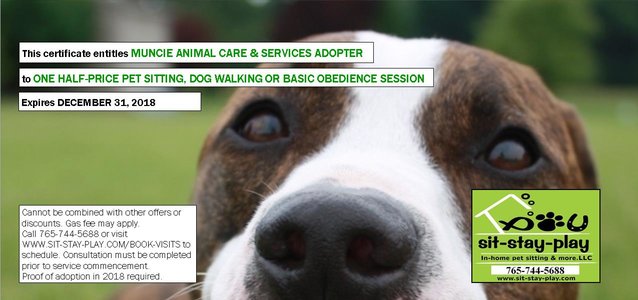 To say thank you with something tangible that most new pet parents can use, we're offering one of our pet care services to you for half-price. Why are we doing this? It's simple. We know that once you learn what we do and how our services benefit you AND your new pet, you'll want to use us again. We're confidant that you'll find our services to be excellent and of great benefit.
A Reward from Sit-Stay-Play for Adopting from Muncie Animal Care & Services 
To show our appreciation, we'd like to offer you one of these services for half-price: pet sitting, dog walking or a basic obedience session. Regular prices for pet sitting runs $20 per visit but you'd only pay $10. The normal rate for one dog walking visit is $18 and your cost would be $9. Our one hour basic obedience sessions start at $30 and you would pay $15. Don't miss out on this very special offer.
Summer and Winter Vacations Mean Booking Pet Care – Let Us Help with Pet Sitting or Dog Walking
With summer here, our services really can come in handy.
If you're going out of town all day and don't want your new family member to be left alone while you're gone, we can help. New dogs can misbehave if a routine isn't established and kenneling your new friend might not be the best solution. Cats might get into mischief as cats will often do and all pets, regardless of breed or species, can benefit from a new friend stopping by for a visit.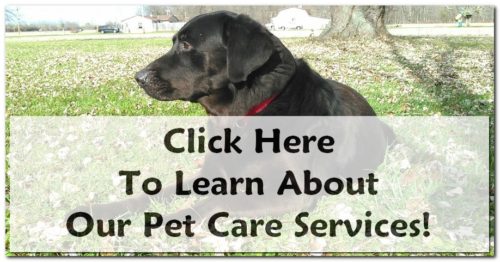 Basic Obedience is for All Dogs, Not Just Young Ones
If you adopted a dog or puppy, we can help teach you and your new canine friend basic obedience. Teaching your new dog or puppy the ropes is an important step in developing a strong leadership role in the home. We can give you some pointers on lots of things including: crate training and rewards. Other topics like: withholding, leadership, feeding/potty routine, directed play, bite inhibition, house manners and more can also be discussed.
How to Schedule Your Half-Price Pet Care Service
First of all, print off the gift certificate that's at the top of this page, you'll need to present this and proof of adoption at your consultation.
Second, call Kelley Stewart a call at 765-744-5688 to set up your free consultation.
What Next?
After that, you'll have a preliminary consultation over the telephone and we'll guide you to what services are appropriate.
At the consultation, you'll show us your home, where your pet supplies are and have introductions. You'll go over the pet care forms, Kelley will collect payment and your two house keys (one will be kept in a key file, the other one will be used by your pet sitter).
Once we have everything we need on file for you and your pet, you'll be all set for future services. If at any time an emergency arises, just contact us. We're good at last-minute emergencies!
Again, your friends here at sit-stay-play want to thank you for adopting. We look forward to meeting you and your new pet in the future.
Sincerely,
Kelley Stewart, CEO|Owner
sit-stay-play In-home pet sitting & more.LLC
"Your pet sitting, dog walking, poop scooping specialists!"
P.S. Don't forget to book your 1/2 price pet care service ASAP if you have summer vacation plans!
P.P.S. Did you know that the Muncie shelter has over 350 cats right now? They desperately need adopters and fosters.