10,441. That's the approximate number of dogs and cats that die everyday in animal shelters all across the United States.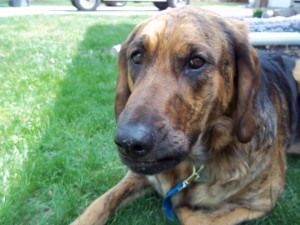 Many died because they were unwanted, skinny, sick or ugly. Some died because they were aggressive. Many died  because they were scared and terrified. Did all those animals have to die? Probably not but most shelters are overcrowded and only have room for so many dogs and cats. Shelter staff make tough decisions everyday and once they hit the maximum number animals they can care for, they reach out for fosters. They contact rescue agencies. They beg for help. Shelters have a hard time placing aggressive, scared or terrified animals into new homes but you can help change that. If only on one day.
The Just One Day Campaign was started to help lower the number of euthanized animals in shelters all across the United States and in 2014, 13,000 pets were adopted.
On, Thursday, June 11, 2015 the Muncie Animal Shelter is opening up the shelter for 24 hours in hopes of placing all the adoptable pets into loving, forever homes. They need you to spread the word. Share this article on your facebook page, share it on your twitter feed. Volunteer at the shelter on Thursday.
Ways You Can Help With The Just One Day Campaign
The shelter needs volunteers over 18 years old to help with these types types of tasks:
Help direct people to the cat areas or dog areas;
Help bring leashes to people who want to take a dog out to the play yard;
Help get kittens and cats out of their cages;
Help clean up any pet messes;
Help the shelter staff complete adoption paperwork;
Help the shelter staff keep things clean and tidy;
Help answer questions from potential adopters;
Bring awareness to the plight of the animals at the shelter; and
Take pictures of the adoptable animals and post them on facebook, twitter, Google+, reddit, Digg and other social media outlets, tag your pictures with #JustOneDay so the pictures and locations are searchable.
Do you have a couple hours or more to help save lives? The dogs and cats need you. The Muncie Animal Shelter needs you.
As a way to say thank you to everyone who adopts a new pet from the Muncie Animal Shelter on June 11, we're offering one free pet sitting or dog walking visit (valued at $19.00). Click here to schedule and to see complete details.
Waiting for #JustOneDay,
Kelley Stewart, CEO|Pet Sitter
sit-stay-play In-home pet sitting & more.LLC
"Your pet sitting, dog walking, poop scooping specialists!"
Serving Muncie, Anderson, Indianapolis and most surrounding cities
P.S. Don't forget to tag pictures of the adoptable animals from the Muncie Animal Shelter with #JustOneDay!
P.P.S. Don't forget to check out the FREE pet sit or dog walk offer for anyone who adopts a pet from Muncie Animal Shelter on June 11!!