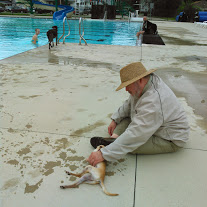 The end of summer is coming to a conclusion. But for dogs in Muncie, it's their time to shine!
Saturday, Sept. 5 from 1p to 5p, Tuhey Pool will host a Drool In The Pool event for dogs and their families.
Cost is $10 for one person and dog, additional dogs are $5 each (two dogs per person maximum).
Dogs should be over 6 months old, be current on vaccinations AND be spayed or neutered.
So what can you expect at this fun event? Dogs joyously running around the park grounds. Dogs of all breeds swimming together. Dogs jumping in the deep end. Dogs swimming with their humans. And lots of happy faces!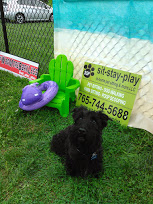 Here's some tips to make everyone's time more enjoyable:
Only bring dogs that are friendly (or at least social) with other dogs. Does this mean they have to LOVE being around dogs ALL the time. No. It just means that your dog won't automatically try to bite another dog if a wayward dog comes up to say hi.
Relax! If you tense up and get scared, your dog will pick up on your tension. And please, watch your dog for signs of stress. If your dog acts scared or timid you might take him to a quieter spot in the park and help him relax a little. It's a very stimulating event and some dogs aren't up to the noise, commotion and sheer number of people and dogs.
Make sure your dog has a properly fitted collar. Make sure it won't slip off over his head.
Keep your dog on leash, with you at all times, unless he's swimming in the pool or can be trusted off leash.
Bring poop bags and pick up after your dog.
Wear clothes you can get wet. You'll have a lot of fun if you hop in the water with your dog!
Take pictures! Post them on facebook, twitter, google+! Use this hashtag #DroolMuncie
Stop by our booth and get your picture taken at the beach. Sign up for our mailing list and pick up some delicious doggy treats and free bumper sticker!
Stop by and visit all the vendors. We're all here because we work with animals in one capacity or another. We ALL have something valuable to offer you so don't miss out.
Bring towels to dry off. Depending on what kind of dog you have you might even want to bring a blanket or something so your car seats won't get soaked as you're driving home.
That's it! 10 simple tips to help you have a great time at this end of summer doggy event. Remember to stop by our booth and grab some goodies.
SonnyRoo is looking forward to meeting lots of new friends tomorrow!
Remember, post pictures: use this hashtag #DroolMuncie,
Kelley Stewart, CEO|Pet Sitter
sit-stay-play In-home pet sitting & more.LLC
Need a pet sitter or dog walker? We can help. Click here to sign up.