Muncie is celebrating our Independence and there's numerous events on and near July 4, 2019 that you may want to know about.
America's Hometown Band is back to share their love of music with everyone starting at 8p July 4 at Minnetrista. Go early, pack a cooler with food and beverages, take a blanket or chairs and listen to these fantastic community musicians.
The WaterBowl is having a slew of bands and the beach will be open for swimming. This event starts at 11am and runs till 3am the next day. It's a family-friendly event too!
Or get your run in and join fellow runners/walkers and enter the Four for the Fourth. Meet at Morrow's Meadow and take a up close and personal tour of the surrounding area by foot.
Check out the 3 links below and be ready to have fun!
Click on the links below to learn more about 4th of July activities in Muncie:
America's Hometown Band and Fireworks on the Levee
Yorktown's Four for the Fourth four mile fun run
WaterBowl Annual Fireworks Show, Bands and Swimming
Tips For Pet Owners
Pet parents, if you're not taking your pets with you, please plan for your pet's safety and comfort. Many animals are scared to death of fireworks and loud noise and they depend on their people to help keep them happy.
Here's a few simple things you can do for your pets' safety and another article with more tips:
1. Noise and sight barrier.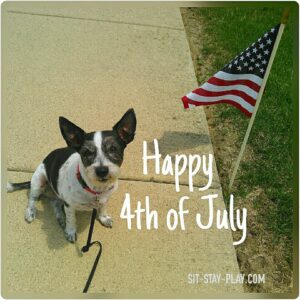 If you know your dog (or cat) is scared of fireworks and tries to hide, turn up your tv or turn on your stereo. Also, close all your curtains and turn on lights inside the home, even if you aren't home. The light inside will detract from the lights outside.
2. Identification.
Make sure your dog or cat has a collar and identification. It's not too late to get your pet microchipped just in case your dog escapes your yard or your cat runs away.
3. Safety inside (and outside).
If your pets typically stay inside and you plan on having company over, we suggest you put your pet in a separate part of the house when you have guests coming and going. A scared dog or cat can squeeze through your legs quickly and they might run away. If your dog likes his crate, put him in there with a peanut butter and treat filled kong. If your kitty likes hanging out in your bedroom, put him in there with a little cat nip and he'll be a happy camper! For dogs that are outside on chains, in pens or in your yard: please don't forget about them! Check on them often, secure the fencing if they tend to jump or dig. Also, make sure they have plenty of fresh water and a dog house or area they can get in if they're afraid.
Warning: more dogs and cats are intentionally hurt (and killed) by fireworks in July than any other month of the year AND July is a record breaking month for lost pets. Please do your best to keep your pets safe.
If you need a pet sitter, please contact us ASAP. Our calendar is pretty full but we could possibly help depending on what you need and when you need pet care.
Enjoy the holiday,
Kelley Stewart, CEO|Pet Sitter
sit-stay-play In-home pet sitting & more.LLC
"Your pet sitting, dog walking, poop scooping specialists!