Facebook has been busy lately! With everyone wanting to rid their closets of clothes, baby items, furniture and video games, one can find just about anything you're looking for, even people offering dog boarding.
I've noticed a huge influx of people posting their need for dog boarding services lately and it's pretty scary, honestly.
What's most concerning is the fact that these people are not just looking for good boarding options but CHEAP boarding is the main emphasis.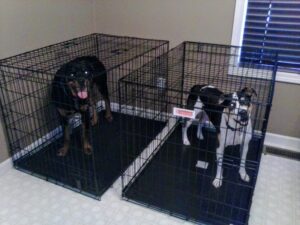 I'm not quite sure if these people are actually looking online to find reputable dog boarding facilities or if they're just posting messages on Facebook because it's so convenient, but whatever the reasons, I urge dog parents to research the companies people are posting about and also, be sure to check out the private boarders that offer this service in their homes.
To find a reputable dog boarding facility, hop on their website. Make an appointment to visit their facility. Make an unannounced visit to their facility. Don't just believe that the lowest priced kennel or boarding facility is going to be a good fit for your dog.
If you decide to visit the kennel before you decide, what's your first impression? Does it stink? Is the grounds clean and grass mowed? Does the staff treat you nicely or are they rushed and rude? Are the kennels clean or is there dog poop everywhere? Is it loud and crazy? These things should help you make your decision.
Here are some other things to think about…
Is your dog a nervous Nelly? A loud kennel might cause major trauma.
Was your dog rescued from a hoarding situation where he spent most of his time in a crate? Forcing him to stay in a kennel or facility where the crate is used primarily for housing might not be a good choice.
Take into consideration your dogs' personality, his likes, his dislikes. Think about his history if he hasn't lived with you his entire life. A quiet, mom and pop type operation might be good for one dog and a busy, bustling dog daycare facility might be better for another.
There's several types of facilities available for dog boarding, including vet offices, actual boarding facilities or kennels, dog day cares and the private person wanting to get their hands in on this money-making opportunity.
I've wrote other articles about local veterinarians in or near Muncie that our clients use, and some of them have boarding capabilities, but I'm going to give you a quick reference list (and some prices) of the kennels, vets and grooming facilities.
Local Day Care/Boarding Facilities in the Muncie Area
Happy Dogs is on W. Jackson St. in Yorktown, at the edge of west Muncie. Happy Dogs is a great place for many dogs. Dogs get hours of social interaction with dogs of all sizes, have playtime outside and the dogs are monitored by a knowledgeable staff. For dogs that aren't good around other dogs, look elsewhere.
Animal Medical Center, in Muncie, boards dogs and is a veterinary hospital as well.
Redkey Veterinarian boards dogs and we have clients that love this country vet.
Boyce Animal Hospital in northeast Muncie has boarding capabilities and many of our clients use them also.
Advanced Canine Techniques in Yorktown is owned by Bonnie Krupa. ACT offers many training classes and also does boarding and training by appointment.
Riverview Animal Hospital located in east Muncie has grooming, a full-range of veterinary services and also boarding.
Doggie Daycare on West Bethel in Yorktown has kennel facilities and also private cottages.
Prices for Dog Boarding
Prices range from $7 per night to $66 plus per night. We recommend you
contact the facility of your choosing and ask for the current rate. Factor in other things that might affect pricing too, like updating their shots, making sure they have current flea treatment and other specific things each facility might require.
I'm not going to post the exact prices people posted on facebook because the prices might be incorrect, no need to shoot this messenger!
So you've learned a little bit about the types of facilities out there, what about just regular people. Can't you find just an average person to watch your dog while you take a trip to Chicago? Sure you can. But before you do that, please continue reading.
Examples of Downfalls with Using Private Individuals for Dog Boarding
Your dog might be left alone for long periods of time unattended;
Your dog crated for too many hours;
Your dog might be locked in a separate room;
Your dog might be allowed to play with other pets or their pets, which could result in fights, accidents or injury or death of your dog;
Your dog might be left at someone else's house;
Your dog might be taken around lots of different animals instead of kept safe in the caretaker's home;
The person might not recognize a health problem with our dog;
The person has no experience with your breed of dog;
The person might not know canine body language;
The person might get called away from home unexpectedly, leaving your dog alone, hungry, scared;
The person might have a very chaotic home which could result in your dog being scared or harmed;
The person might have kids that might torment or hurt your dog;
The person might abuse your dog;
The person might be a whack job and not return your dog when you get home;
The person might scope out your house while you're gone; or
The person might breed your dog. Maybe they've been seeking a stud service and saw your post about needing a cheap dog boarding place for your Bull Mastiff or Great Dane. Bingo! They just hit pay dirt!
Think some of these things sound crazy, ridiculous or far fetched? This is just the tip of the iceberg. Many more things could happen to your dog. Or chances are nothing will. Do you really want to take that chance?
Story of a Chihuahua Injured While Being Boarded
We had a client who had a Chihuahua and sought someone 'cheap' to keep the dog while he was gone for a month.
Our client found someone through an ad he posted on craigslist.
While in that person's home, the Chihuahua suffered a broken leg, got infested with fleas and was held hostage for a couple weeks once his owner returned home.
Our client tried everything possible to get his dog back but the private individual wouldn't give up the dog.
Our client called us, begging for help and we recommended calling the police, sending a certified letter to the individual, and just going over there everyday asking for the dog back.
Finally the dog was returned and our client was horribly upset because the dog never received any medical attention. He suffered needlessly with a broken leg, fleas and who knows what else.
Our client learned a horrific lesson and his dog paid the price.
Please don't follow in his footsteps.
Contact us if you have questions. Our team of pet care providers are well-equipped to care for your dog or puppy. We have a variety of options from pet sitting to in-home boarding to overnight pet care.
Thank you,
Kelley Stewart, CEO|Pet Sitter
sit-stay-play In-home pet sitting & more.LLC
"Your pet sitting, dog walking, poop scooping specialists!"
P.S. There ARE other options! Pet sitters come into YOUR home to watch your dog; saving you time, worry and money.  Contact us if you'd like to discuss our pet sitting services!