sit-stay-play partners with other pet relocation experts across the United States to get pets from point A to B and also facilitates trips of their own.
Situations Where We Can Help…
Do you need pet taxi transportation help in Muncie, out of state or long-distance pet relocation services?
Have you ever needed help getting your pet from your house to Happy Dogs or to your veterinarian?
Are you without a vehicle and need help taking your dog or cat to the groomer or doggie daycare?
Does your sick pet need to go to the veterinarian for euthanasia?
Are you moving to another state and don't want your pet to fly? Ground transportation is a GREAT option.
Have you ever needed help lifting your pet into your vehicle and didn't have anyone to call?
Another situation where we can be of assistance relates to victims of domestic violence. Often times a person will stay in an abusive relationship because they fear for the safety of their pet and we'd love to help you get to safety. If you're in a situation like this and need help getting out, contact us immediately at 765-744-5688 when it's safe to call. We'll discuss payment later. You can also click the link below and fill out the form and put DV in the very last box – once you're on the page you'll see the space.
Being in these situations can be extremely stressful, especially if you really need help. That's why we offer this service, even during the pandemic, our taxi services are crucial to some of our clients because they don't fee safe leaving their homes yet.
Ways Our Pet Taxi Services Can Help!
Private Transportation with Two Drivers
Door-to-Door Pick Up/Drop Off
Communication During Trip

Who Uses Our Pet Taxi Services?
Ball State students without cars
Couples having us bring their pet to their wedding
Senior citizens and people unable to drive
Individuals not able to lift their large dogs into their vehicles
Vision impaired pet parents
We've safely transported dogs, cats, rats and even birds locally, to New York City and even Pensacola, Florida!
Our services are available to help with puppy mill rescues and large scale pet rescue transportation also, please contact us for pricing for these services.
Safety First!
If traveling by vehicle, all of our transport clients will be kept safe and secure in an appropriate travel crate or carrier.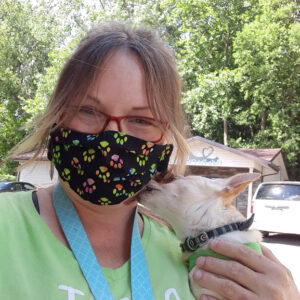 Depending on the length of the trip, and the type of pet, we will give periodic breaks and will give adequate food and water.
All dogs will be double leashed while on short walks and we'll make sure to clean up any accidents your pet has while they're in our care.
Two people will be on our pet taxi jobs so one person is always able to drive if the other one is tired.
Cost for Local Pet Taxi Services
We charge a $25 fee for one way trips inside of our main service area in Muncie, IN. Areas outside of this are charged an additional $.80 per mile. Each additional pet is $5 each.
Trips to and from Happy Dogs are $20 each and $5 per each additional pet for customers living in our main service area.
Cost for Out of State Pet Taxi Services
Please contact us for pricing for out of state rates. These rates vary based on mode of transport, length of trip and pet requirements.
On average, this is what we charge for out of state pet taxi services:
Our travel pay of $1.60/mile to $3.00/mile. This range accounts for dog walks, clean-up, feeding, extra time needed to care for pet. Start and stop time is Muncie, Indiana, however if pick-up is within 60 miles of Muncie we start pick-up time at that location.
Client pays for all fuel needed for trip, all highway tolls and any vehicle rental if needed
The client covers all hotel or lodging costs, we typically drive for 10 hours then stop at a pet-friendly hotel
We only drive with one pet during our long-distance pet taxi jobs or multiple pets from SAME household. This makes it safer for your pet (and us).
Happy Trails,
Kelley Stewart, CEO|Pet Sitter
sit-stay-play In-home pet sitting & more.LLC
"Your pet sitting, dog walking, poop scooping specialists!"
P.S. Ready to request services? Click here to get started!
P.P.S. If you've read this article and you DO have a pet, will you sign up for our FREE pet birthday club…we send out special surprises to the pets in this club and offer specials and invitations to parties and pet-friendly events. Any pet can join, from any state or country!