Did you know that during the 4th of July holiday week, many dogs and cats escape and run away from home? Many of these pets end up injuring themselves as they try to escape or get injured on the roads fleeing from the frightening sounds.
Depending where you live, fireworks may be a full blown day and night activity. Here in Muncie, Indiana, people start blasting off the fireworks as soon as they hit the store aisles. And this time of year is disastrous for many pets, animal shelters, veterinary offices and pet parents.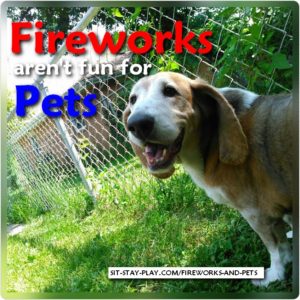 Fireworks and Pets – Be Safe
Fireworks are scary to most pets. On top of that, they're dangerous! Continue reading to get practical tips that might help your dog and cat get through the festivities unharmed and safe.
5 Tips to Keep Pets Safe During Fireworks
Here are 5 simple steps to help pet parents…
1. Bring Pets Inside: On July 3 or whenever your town hits fireworks hysteria, bring dogs (and cats) that are tethered outside, in. They'll be safe, they'll have you for comfort.
2. Provide A Safe Shelter: If you can't bring your dog or cat inside, provide a safe place for them.  Convert your garage to a temporary safe spot, put a dog house outside for your cat. Don't forget about horses, chickens and other outside animals.

3. Pet Collars: Double check pet collars and make sure they fit properly.
4. Pet ID Tags: Make sure UPDATED identification tags are on your pets.
5. Medication: Contact your veterinarian if you notice your pet shake, salivate, lose control of their bladder or bowls – this could mean they're stressing out severely and might benefit from a mild sedative.
Inside The House
There are some simple things you can do inside your home to make sure your pet stays safe and comfy…
1. Privacy: Keep curtains and blinds closed to limit their sight.
2. Lights: Turn on all your lights so they can't see they bright lights outside.
3. Noise: Turn up the television or stereo to drown out the noise.
4. Calming Spray: Put calming spray on your pet or their bedding.
5. Clothing: Thundershirts can be placed on dogs to help keep them relaxed.
6. Cozy Spot: Make sure your dog or cat can hide in a closet, under the bed or wherever they feel safe.
7. Doors: Watch the door when you enter and exit. Pets will often run right into danger versus staying in their home where it's safe.
My Pet Escaped From My House During Fireworks, Now What?
Make sure you have recent pictures of your pets and contact your local animal shelter to ask if they've picked up an animal fitting the description of yours. Visit the shelter yourself and show them your pictures. Pets can get filthy and
really be unrecognizable so it's best if you go look for them.
Don't rely solely on the microchip (if your pet has one). Unfortunately not all shelters scan for chips and the scan guns are not universal so the kind you have might not be detectable by the scanner someone else uses.
Second, place LOST PET ALERTS on all social media outlets you participate in. Give physical description, contact in for you, where pet was last seen and offer a reward. More people are likely to help if there's something in it for them. Sad but true.
After that, I'd check with all your neighbors and post MISSING pet flyers all over town. Don't just post in your area. Pets can travel long distances when they are afraid.
Post immediately on Facebook and the local rummage sale and lost pet groups. Put the area your pet was lost in, his physical description and your phone number.
Contact local veterinarians and see if someone has brought in your pet.
Check with your local radio stations. Some have special programs for lost pets. It's worth a shot if you love your pet.
Also, keep your pet inside while lighting off fireworks. You'll have more fun with your friends and family if you're not constantly having to check on your pet.
Don't strap black jacks or other items to them, it's abusive and horribly scary for them.
Watch your children closely with fireworks. That should go without saying but I hate to be the one to tell you children abuse animals every year with fireworks. Hundreds of pets die or are significantly harmed during the fourth of July season. It's very traumatic to the injured pet, the veterinarian team that cares for them and even the actual pet owner.
Find A Pet? Here's Things You Can Do
If you find a lost pet take them to the animal shelter, place information on Facebook and other social media sites.
Place a free found pet ad in your local newspaper and have interested parties give you specific information about the pet, i.e., color, length of coat, identifying marks,  type of collar, name. If they can't or won't tell you this information, it's probably not their pet.
Well be more than happy to help you if you lose, or find a pet. Just contact us here if you'd like additional help.
Have a good 4th of July!
Kelley Stewart, CEO|Pet Sitter
sit-stay-play In-home pet sitting & more.LLC
P.S. If you need pet sitting over the holiday, contact us, we'd be happy to help but spots are filling up fast!