Looking for some fun things to do with your dog in Muncie, Indiana? Check out this article! We give you some great ideas including hiking, canoeing, kayaking and playing disc golf. These things are either FREE or relatively low-cost. Continue reading to see what else we recommend.
30 Fun Things To Do With Your Dog In Muncie, Indiana

1- Leash up your dog and take a walk in downtown Muncie. Park along Walnut Street and just get out and explore.
2- Take your dog to Canan Commons. Take a long lead, a Frisbee or tennis ball and let your dog run, play and have fun. (There's many downtown events events that take place here in the spring and summer. Many are dog-friendly and free!)
3- Park at the old Wysor Street train depot and take a walk along Cardinal Greenway.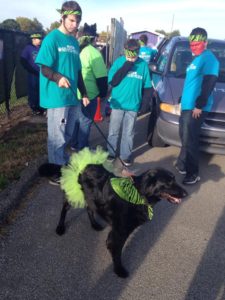 4- Drive out to Prairie Creek Reservoir, park in any of the free spots and take a hike. You'll find lots of green space, hills, geese and water that can keep your dog interested.
5- Go to Mansfield Park and take your dog for a walk around the lake then hop on the Greenway and explore the south side of town.
6- Need some dog food? Go to Tractor Supply with your dog. The store is dog-friendly and it's a great socialization spot!
7- Like flowers? Go to Minnetrista and take a walk around the grounds. White River Greenway is just a hop skip and a jump away.
8- Go to Westside Park, walk around the playground, baseball diamond and areas designated for remote controlled toys then walk along the Greenway (this is one of my favorite walks.)
9- Go to PetSmart. Meet some doggy friends there and make it a doggy day!
10- Visit ARF Bark Park on Riggin Road.
11- Visit Emerson Dog Park on Ball State campus. They have doggy play equipment and drinking fountains for Fido.
12- Visit Heekin Dog Park on East Memorial Drive.
13- Like disc golf? McCulloch Park has an awesome disc golf course plus lots and lots of areas to take Fido for a walk. Be sure to explore the Greenway Trail that runs parallel to White River.
14- Grab a brew at the Heorot in downtown Muncie and take your pal.
15- Fickle Peach in downtown Muncie is also dog-friendly, have a beer on the patio.
Here's 15 More Ideas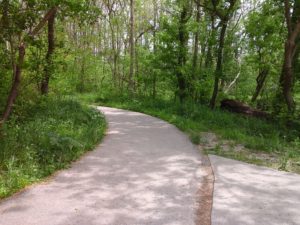 16- Walk along Ball State campus. There's paid street parking, paid garage parking (free after 7pm).
17- Go see Frog Baby behind Bracken Library on Ball State campus. Your dog might want to hop in the water fountain, take a towel!
18- Take a walk through north quad on Ball State campus (just west of the corner of McKinley and Riverside, behind the art museum.) Watch out for the squirrels and chipmunks!
19- Take Fido with you to Rural King the next time you need to buy dog food or pet supplies. The store is large and it provides a dry space for dog walking if the weather is nasty.
20- Call Muncie Obedience Training Club and sign up for a dog training or agility class.
21- Walk through Oakhurst Gardens.
22- Grab a pupiccinio in the drive thru at Starbucks.
23- On Saturday mornings in the spring and summer, grab a bag and shop for some veggies at Minnetrista's Farmers Market. As long as your dog is on leash and is well-behaved, dogs are welcome.
24- Park behind Berkshire Hathaway realty on McGalliard and take a walk along the Greenway, if you have another human joining you one of you should stop at The Island (directly behind Olive Garden) and grab a smoothie.
25- Right on the outskirts of Muncie is a hidden park called Morrow's Meadow; complete with a huge green space and trail. The park is actually in Yorktown but it's super close to Muncie so that's why it's included in this article. This area is a prime place for people to launch canoes, kayaks and paddle boards.
26- Walk through Jim Craddock Wetland Nature Preserve just off the trail on White River Boulevard near state road 32. Be sure to keep your dog on leash to prevent destruction of native habitat.
27- Take your dog for a $7.00 pet nail trim at one of sit-stay-play's monthly events at Tractor Supply or Rural King.
28- Give your dog a fun doggy play date at Happy, Clean and Smart. You can walk through, meet the staff, see the outside and inside play areas.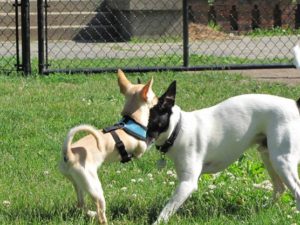 29- Go to a Ball State football game and have your dog tailgate with you. See this article for tips on how to have fun tailgating with your dog.
30- Take your dog to the Ball State homecoming parade held yearly in October. Park close to McKinley, Central High School, University or High Street bridge and watch the parade. Make sure that your dog doesn't snatch up candy and treats!
There you go; 30 fun things to do with your dog in Muncie, Indiana before the weather turns too cold. How many of these things have you done already? How many of these places have you not ever heard of?
sit-stay-play is all about helping people enjoy life with their pets and we love to see dogs going on adventures with their people. If you decide to do an activity we've mentioned on this list, would you mind snapping a picture or two and posting them to our Facebook page?
Please let us know if you need anything or have any pet-related questions; we're here to help!
Have fun with your dog,
Kelley Stewart, CEO|Pet Sitter
sit-stay-play In-home pet sitting & more.LLC
"Your pet sitting, dog walking, poop scooping specialists!"
P.s. Don't forget to take your fully charged cell phone and bring doggy poop sacks. Please clean up any messes your dog makes to keep everything tidy for others. Also, if you're going to a hike in a new area take water for you and Fido, many places along the trails are pretty isolated.
P.s.s. Have something to add here or want to learn more about our services? Browse around our site or send a message.