Are you new to the Muncie area or are you wondering, "Where Can I Walk My Dog In Muncie?" In this article you'll see some of the most popular dog walking areas and places nearby that are worth checking out.
First on the list is the Cardinal Greenway.
Cardinal Greenway is wheelchair accessible and people use it for running, walking, blading, skateboarding and of course, dog walking.
This converted railroad track is hugely popular in the warmer months.  Cardinal Greenway are definitely places you should walk your dog.
White River Greenway is the section that runs from Minnetrista to Westside Park area.
Did you know: Muncie is home to 21 city parks? And they're all dog-friendly. Check out these videos!
Muncie Dog Parks
People that know what I do for a living often ask me, "Where I can walk my dog in Muncie?" and the first place I direct them to is our 2 city dog parks.
To use the city dog parks you're 'supposed' to buy a guest pass from either Boyce Animal Hospital, Care Animal Hospital or Muncie Animal Care and Services, however, it's a not-so-little-known-secret…shhhh!!!!…that Emerson and Heekin have inoperable locks on the gates so anyone can use these wonderful facilities at their own leisure. However, we highly encourage you to pay the yearly fee. That money is used to keep these dog parks in operation and if they run out of money, then we'll all be out of luck.
Passes for city parks Emerson and Heekin Dog Parks costs $25/year so be a responsible dog parent and buy a pass if you have the funds. ARF Bark Park, owned by Muncie ARF, has their own individual passes which can be bought at Boyce Animal Hospital.
Muncie's Dog Parks:
Emerson Dog Park, 1805 W. Ashland Ave., on the campus of Ball State University; and
Heekin Dog Park, corner of E. Memorial Dr. and S. Hackley St.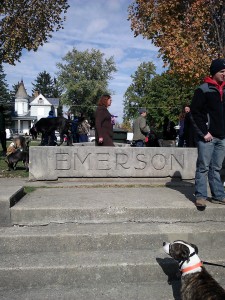 ARF Bark Park is more of a private park and you do have to buy a pass to use this park. It's located next to Muncie ARF at 1209 W. Riggin Rd., Muncie, IN.
Where Can I Walk My Dog on Ball State Campus?
Everywhere! Well, pretty much everywhere.
From the large shaded area between Lucina Hall and Ball State Museum of Art, to the area by North Quad, to the Frog Baby statue in front of Bracken Library, to the bell tower, down by the architecture building and Worthern Arena and the famous duck pond and really, practically everywhere on campus, including the cow path, Ball State is an awesome place to walk your dog. The campus is clean, sidewalks are nice, paved and wide.
There are several restaurants (The Cup, Yats and Roots) complete with outdoor patios where you can grab a drink and take a nice break. Parking is pretty easy. There's two centrally located parking garages near McKinley and Riverside plus meter parking.
One caution: There may be construction happening on Ball State campus so I recommend driving through first just to get an idea of where you should avoid walking. But it's still a nice place to go walk just be alert for construction traffic.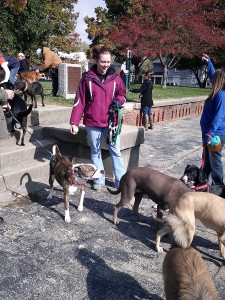 Where Can I Walk My Dog in Downtown Muncie?
Muncie's historic downtown is a safe, clean and again, a great place to walk your dog.
Parking is easy.
You can park down by Central High School on the north end of Walnut and walk down Walnut Street or park along Walnut and venture north or south. Be sure to venture on the side streets because there are many local businesses spread out through downtown.
Canan Commons at the south end of Walnut St. and it's a popular spot to take dogs.
With a large green space, Canan Commons is awesome to bring your dog on a long lead (please keep your dog on leash 24/7 please). Play Frisbee or other dog-friendly game, just be sure to keep an eye on your pup and clean up any gifts your dog leaves. And bring doggy poo bags! There aren't baggy stations so you're on your own for that 🙂
Where Can I Walk My Dog in Muncie and Grab a Beer or Other Cold Beverage?
Hands down, go to the Heorot (voted BEST beer bar in 2014). Your dog is welcome to sit with you on the patio and even go inside. The Fickle Peach is another option. Catch live music and local sip a cold beverage. You might call ahead and check their calendar. Both of these establishments do have entertainment schedules.
Walk Your Dog at Morrow's Meadow in Yorktown – A Short Drive from Muncie
Ready to get out of town and explore a little? Drive west on highway 32 towards Yorktown and you'll arrive at Morrows Meadow which is behind the Pizza King on Tiger Drive.
This beautiful park is right along the river and it has an updated trail and a large expanse of grass and greenspace. This is a common place to get dropped of for canoeing, kayaking and various outdoor events. There's a covered pavilion and plenty of space for a picnic.
There are ample places where you (and your dog) can hop in the river and cool off as well. Just be safe and don't forget the doggie life jacket!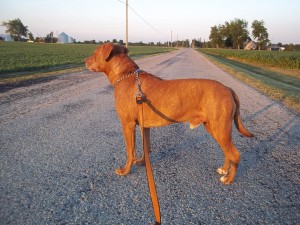 Any Dog Beaches? Where Can I Walk My Dog Near Water?
Looking for a dog beach?
Ready to be around some water?
Unfortunately there isn't a specific dog beach area, there are plenty of places Fido can go for a dip.
Prairie Creek Reservoir is just 5 short miles from southeast Muncie. This place is great place for dog lovers because there are plenty of places to just park your car, walk and explore.
Things to do at the Reservoir include: camping (RV and primitive), boating, sailing, swimming, dirt biking, mountain biking and horse riding. If you're interested in doing any of these things check out their website for specifics. Prairie Creek has several playgrounds as well.
There's also Mansfield Park, just off of E. 18th Street on the southeast side of Muncie.
Mansfield Park has a good size pond, an awesome playground, great fishing spots, tennis courts, baseball diamond and it's right along the Cardinal Greenway so you can walk there easily.
And Muncie has White River…and the trail runs along it so it's a wonderful place to walk. You'll go through city parks like Westside Park and McCullough and you'll walk down Minnetrista Blvd and see the Ball Mansions, plus the river along Wheeling Ave.
We Want to Hear From You…Do You Have Any Great Dog Walking Spots?
Muncie is a great place to live, play, work and…walk dogs! If you have a Muncie location you'd like to see added to this article, please send a message and we'll include it in another article or do a feature for that specific location.
Our pet sitters and dog walkers here at sit-stay-play In-home pet sitting & more.LLC would like to encourage you to get out there and enjoy time with your dog.
If you ever need pet care or dog walking needs, please contact us, we'd love to talk to you. We also offer poop scooping services!
Kelley Stewart, CEO|Pet Sitter
sit-stay-play In-home pet sitting & more.LLC
"Your pet sitting, dog walking, poop scooping specialists!"
Providing pet care services in and near Muncie, Yorktown, Albany, Hartford City, Anderson, Indiana
P.S. Book your pet sitting and dog walking for fall and holidays NOW.
P.P.S. Did you know we also offer pet taxi services and wedding pet care? If you are planning a wedding and want your pet to join you on your special day, we can help. Not sure how you pet can make an appearance? Talk to us and we can help you come up with a game plan to figure it out. Call us at 765-744-5688 or request services here.
P.P.P.S. Want to see some of the parks we have in Muncie? Check out these YouTube videos I made!