Would you rather get a root canal or trim the dog's nails? That's not a trick question…lol…seriously though, pet nail trims don't have to be frustrating and as dreadful as a root canal!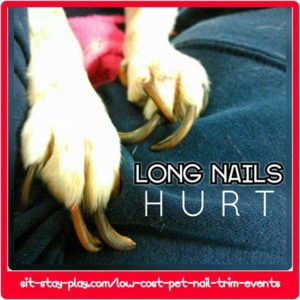 sit-stay-play In-home pet sitting & more.LLC offers monthly pet nail trim services for dogs, cats, rabbits, ferrets, rats and guinea pigs in Muncie, Anderson and New Castle, Indiana. It's great for people on a budget and for people that don't want to vaccinate as much as their veterinarian recommends. However, all pets that visit us should be healthy, free from any contagious disease, flea-free and friendly.
There's lots of benefits to coming to our events, here's a sample of what we strive to provide to each person and pet that visits…
1- You and your pet will be treated with compassion and kindness – we don't rush through the nail trim. We'll listen to you and listen to your concerns and answer your questions.
2- You and your pet will experience calmness and patience. We'll wait till your pet is calm before we cut his nails.
3- We'll teach you how to interact with your pet in a calm assertive manner. We'll show you how to trim the dog's nails yourself (if you want to learn).
4- We give you tips and tricks to make the experience less painful, less traumatic and more pleasurable for both you AND your pet.
5- You'll get a good deal at a great price.
6- You don't need to schedule, just walk in and sign up.
7- We can help get your dog's overgrown nails back in shape with frequent trims if necessary (we make house calls).
8- We don't require shot records but your pet should be healthy when they visit us.
9- You have the chance to win prizes and free services if you participate in our drawing we have at many of our events.
10- You'll experience a relaxed and upbeat atmosphere. It can get a little chaotic at times depending on what pets visit but you'll laugh and have a good time. Plus, your pet will have a fun field trip and get some positive socialization (important for recently adopted dogs).
If this sounds like something you want to check out, see our upcoming pet nail trim events at this link.
Off to trim the dog's nails,
Kelley Stewart, CEO|Pet Sitter