Helping pets and people in need is exactly what Ernie's Heart Pet Food Pantry does. In the Anderson, Indiana area, many people face the decision whether to feed themselves or feed their pets. Unfortunately people in these situations might feel desperate and many cities don't have organizations to help with this problem.
Helping Pets and People In Anderson, Indiana

Jan Smith, the founder of Ernie's Heart, knows all too well the predicaments people find themselves in because she listens to their stores. She also volunteers regularly at Animal Protection League, in Anderson, and sees the animals that are dumped first hand.
To combat the problem, Jan, along with many loyal supporters, local businesses and volunteers work tirelessly to feed hungry pets and help families stay together.  They're doing their part to help keep animals off the street and out of the animal shelters – but they need your help.
Ernie's Heart Needs Your Help
In order to continue helping pets and people, Ernie's Heart hosts different events and solicits donations to buy pet food. Starting this spring, you can visit their bazaar, complete with rummage sale tables, local craft vendors and local businesses.
Ernie's Heart seeks help from the community so they can continue their life-saving work. If you have household items you don't want or unsold rummage sale items, they will gladly accept your donation. Contact us if you'd like more information on this.
Fundraiser, Pet Food Collection and $5.00 Pet Nail Trims!
On May 27, from 12:00pm-3:00pm, visit us and bring your pet and get ready to shop! We'll be offering $5.00 pet nail trims (or free with a pet food donation). Plus, we'll have other pet-related goodies like bumper stickers and t-shirts on hand. SonnyRoo, our 2-legged Chihuahua, will be there to greet our visitors. Part of the proceeds from all items we sell and nails we trim will be given to Ernie's Heart to help buy pet food.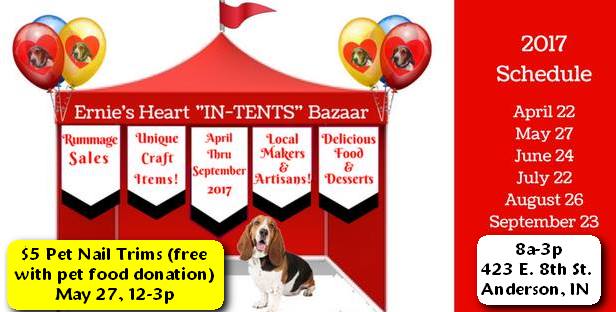 Helping Pets and People In Need,
Kelley Stewart, CEO|Pet Sitter
sit-stay-play In-home pet sitting & more.LLC