The benefits of hiring a pet sitter, dog walker or farm sitter include peace of mind, convenience and comfort. It's an important decision you'll make, not only for you, but for your pet and the benefits are numerous.
The person you hire to take care of your pet(s) or farm animal not only look after them, keep them happy, make sure they're fed and they drink enough water while you're gone, they can also bring huge benefits to you, the pet parent.
On top of that, your pet sitter will watch over your home. They might bring in your mail and any packages that are left at your door. If there's a household emergency, the pet sitter should be able to handle it or at least know to call the proper person that can.
How Is All This Possible With JUST A Pet Sitter, Dog Walker or Farm Sitter?
…A dependable pet sitter will help you relax and enjoy life more.
…A dog walker can give you time to do the things you want to do versus spending an hour walking your dog after work.
…Hiring a professional pet sitter to visit your dog during lunch means you can work longer, maybe an extra shift or go to lunch with your friends or co-workers.
…Making more money will enable you to schedule that massage you've been wanting or to book that vacation.
…Hiring a farm sitter to come in and take care of your horses, cows, chickens or other farm animal means you can get away once in a while.
…Having a reliable pet sitter will help you life the life you want!
You see, the benefits of hiring a pet sitter, dog walker or farm sitter is an integral part of the puzzle!
Pet sitters are valuable to a person who wants to enjoy life on their own terms and make sure their pets are happy.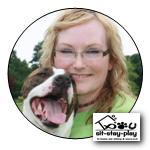 A Pet Sitter will make YOUR life better.
Do you need someone to help at lunch or after work?
Do you need someone to watch your pygmy goats, horses or chickens?
Muncie, Indiana pet parents, we're here to help you. Contact us today.
Living the Dream,
Kelley Stewart, CEO | Pet Sitter
sit-stay-play In-home pet sitting & more.LLC
Serving Muncie, Anderson, Yorktown, Daleville, Chesterfield, Hartford City, Albany, Portland, Pendleton, New Castle, Noblesville, Fishers, Carmel, Indianapolis and Brownsburg
Ready to book services now? Visit this link to get started with our online forms.