The coronavirus got you down? Here's a special offer that will pick you up!
We know you find value in our pet nail trim services we do in Muncie, Anderson and New Castle and we'd like to reward you for your business – plus give us a little boost during this economic downturn 🙂
This UNLIMITED PET NAIL TRIM OFFER is good for ALL of your pets that you have when you buy the offer and it's only $70.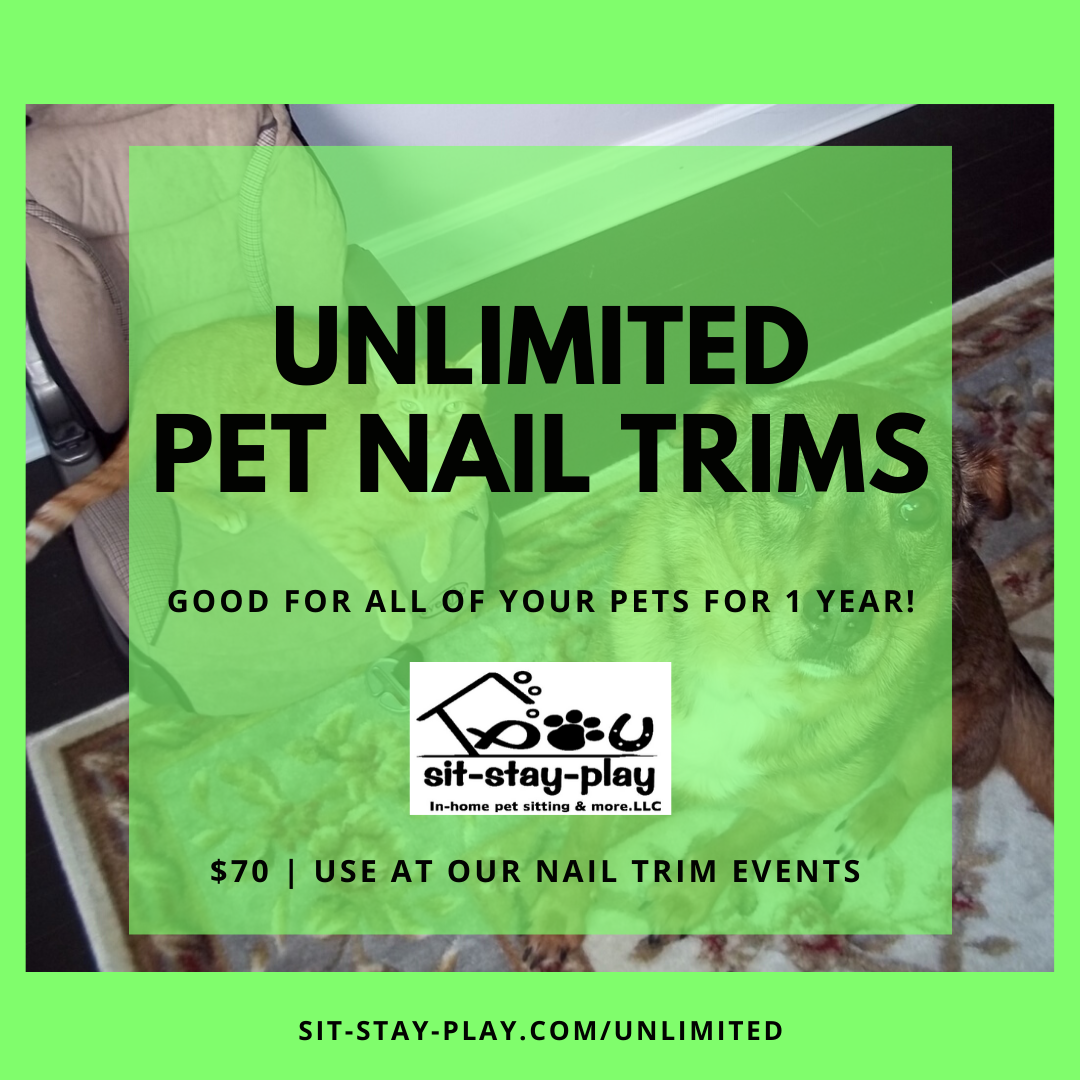 Here's how it works:
 
#1 – Come to one of our pet nail trim events;
#2 – Bring $70 with you to pay for the card;
#3 – Sign your pet up for a service;
#4 – Once we trim your pet's nails we'll give you your UNLIMITED card;
#5 – Bring that card in each time you visit us and we'll trim your pet's nails!

We accept cash, check and Chase Quick Pay. Contact us at kelley@sit-stay-play.com or call 765-744-5688 to make payment.

And a little more information about this offer…

Your one year of UNLIMITED pet nail trims starts the day you come in for your first service, not the day you buy the card.

You can visit any of the Tractor Supply stores with your UNLIMITED card.

So…buy now and as soon as the Federal government and health professionals give the OK to go back to our regular lives we'll resume our events at Tractor Supply and get your pets taken care of.
Be sure to scroll down and check out our other posts. There's one for dog walking, pet sitting, in-home nail trims and one that can be used for everything.

Something else to think about…

Think about it this way…the regular price for one service is $7. If you come in 10 times in a year, which most people do easily, you've paid for the card. However, if you come in monthly, with just one pet, you would've spent $84.

With this offer it's like you're getting 2 free services.

But remember, this applies for ALL of your pets, not just one. The value just increases if you have more than one pet but also gives you a really good value if you only use it monthly!

This offer won't last long. Buy now and save yourself some money and help a local business.

Thank you and stay safe out there,

Kelley Stewart | CEO, Pet Sitter
sit-stay-play In-home pet sitting & more.LLC
"Your pet sitting, dog walking, poop scooping specialists!"
P.S. Be sure to check these other specials!!