Saving Marley the Great Dane took a village of dedicated people, rescue groups and organizations. Using social media, news of her predicament was published and we began to see people put foot to pavement and offer solutions for this homeless and lost dog. Without the joint effort of everyone involved, Marley might still be running around Muncie, looking for her next meal or resting her weary, malnourished body on a borrowed couch.
Saving Marley The Great Dane

Rescuing any animal takes a concerted effort, especially when it comes to a 95lb Great Dane who covers ground quickly and hurdles fences like she's an Olympic athlete. Rescue isn't done on an island; it requires help from all different sources. It takes perseverance, patience, knowledge and quick thinking.
Rescue isn't always pretty or convenient. People that have a passion for rescue have great success stories and tales of heartbreak and gut-wrenching sorrow. It's not for the faint of heart.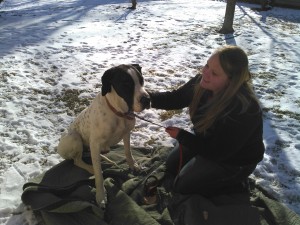 The Capture
Luckily, on February 13, the rescue gods were working behind the scenes and setting everything up to work in our favor. Marley had been spotted the day of her capture but instead of running to the country like she had in the past, she got herself in a fenced yard and boom – that was it. This wasn't a coincidence in my opinion. Of all the open yards she could've been in, she was in the right one at the right time, with the right people waiting for her.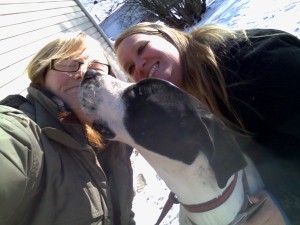 Marley's Backstory
Marley's story starts in June of 2013. She was adopted by a wonderful family who had another dog, cats and children. Marley grew up with learning basic obedience, boundaries and manners. She was given the type of life all dogs would be lucky to have which included lots of car rides, a big back yard, snuggly beds and treats. When she hit puberty, her family noticed her temperament change. Marley was still good with people but with female dogs, not so much. They decided to re-home her.
Once at her new home, things went downhill. She started escaping. After escaping one too many times she was on her own. Running for over 7 weeks caused her to lose a lot of weight, but worse than that, she lost her love of humans, especially men. We realized she had a huge fear of leashes and anything that resembled an innocent leash freaked her out and caused her to bolt. This led to many failed attempts at being caught.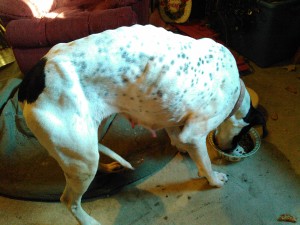 On The Loose
While on the run, sightings of Marley started popping up in January 2016 and occasionally people would try and catch her. People would see her running down by White River, near Ball State campus, then she'd be seen by Tractor Supply on the east side of Muncie or out by Royerton on highway 3. The very next day she'd be spotted out by Walmart south then on Memorial Drive by Sutton School. This girl got all around Muncie and yet amazingly she didn't get hit, poisoned or shot on her dangerous adventure.
Marley The Great Dane Off To Rescue
But alas, on February 13 this all changed and she started her second chance at life. A responsible Great Dane rescue will provide all the medical attention and care she needs. The future looks bright for Marley, she won't be used as a breeding machine nor will she have to worry about her next meal. Her foster family will work to desensitize her to leashes, to men and to any other thing that could prevent her from finding a new forever home.
On behalf of Marley, I want to say thank you to all the people who have looked for her and shared the #FindMarley story. There's no way this would've turned out like it has if it weren't for all your help.
Big shout out to Kim Stiers and her husband for acting quickly once the call came in; to Chad, Janet, Leslie, Leann, Randy, Jamie, Bob, Andrew, Angel and Dane for driving around countless times for her; to all the people who posted her location; to the Ball State students who fed her and allowed her to crash on their couches; to the Muncie Animal Shelter for going on many wild goose chases; to the woman who called me and told me where Marley was; to the neighbors who gave Marley a Happy Valentine's Day teddy bear and to Vicky for having such a big heart, big garage and big backyard – Marley hit the jackpot with you!
Most of all thank you to the Great Dane rescue who stepped up after hearing her story. Opening their doors to forlorn dogs is something they do everyday in one aspect or another but they decided to take a chance on this big, beautiful girl and set her up with a foster family.
We're eternally grateful for helping us save Marley. For more pictures, watch the video below.
Hope you enjoy the video and happy rescue story,
Kelley Stewart, CEO|Pet Sitter
sit-stay-play In-home pet sitting & more.LLC