Basic obedience and puppy training should start as soon as you bring your new canine into your home. Why? Because without proper training your dog or puppy will begin to get himself into trouble. Well behaved dogs are much happier dogs in our opinion.
Basic Obedience and Puppy Training – Examples of Untrained Dogs
Have you ever gone to a friends' house and you're greeted immediately by their unruly dog? He jumps all over you and won't let you sit down on the couch without a hassle?
What about the barking dog that starts barking as soon as you pull in the drive way. You hear him and you start to feel tense because you KNOW your friends have no control over him and you'll have to listen to his yip yapping for the next 15 minutes or so until he calms down.
Have you ever wanted to take your dog to a dog-friendly coffee shop or yogurt store and wish that your dog would lay down or sit patiently while you talk with your friends?
These are all things we can work with you on. You won't leave to leave your home, we come to you for these basic obedience and puppy training classes.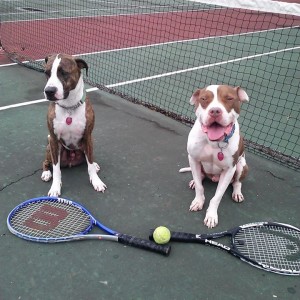 The Basics of Basic Behavior Training
Immediately: Basic behavior training should start from the moment you bring your dog home. Dogs and puppies have to learn the very basics before they move on to harder things, much like us learning basic addition before we learn complex algebraic problems.
Reinforced Daily: Basic training needs to be reinforced daily if you want your dog to be happy and calm. Teaching your dog to listen and obey starts from day one. Bad behavior happens when humans allow dogs to be in charge and not follow rules, boundaries and practice limitations.
Learning Doesn't Stop With Age: All dogs can learn basic obedience and should know basic commands such as 'sit, down, come, stay' and should know how to walk politely on leash. If your dog pulls you down the road or jumps on guests when they enter your home, we can help!
Should your dog begin to growl at you, your children, your neighbors or exhibit aggressive behaviors, contact Bonnie Krupa or Muncie Obedience Training Club immediately.
Basic Behavior and Puppy Training Prices
Prices are based on the type of training involved and the number of classes scheduled. Discounts can be given for dogs going through training in the same family.
Our basic obedience classes are convenient, affordable and flexible. In our first session we'll meet you and your dog, talk about your goals and set up a schedule to get your dog on the right track.
Basic Obedience and Puppy Training Topics Include:
Puppy manners

Proper socialization
Basic manners
Bully breed issues
Canine Good Citizenship Preparation (CGC)
Loose leash walking
Clicker training
Discipline/negative reinforcement
Spaying/neutering
Microchipping
---
Puppy Training 

Puppies can start at 8 weeks of age

Positive Socialization – Crucial for proper development of puppies. We'll give you suggestions on how to do this the best way for your puppy.

Collar and Leash Introduction – We'll show you how you can start your puppy off on the right foot with selecting the right collar and walking on a leash.

Schedules – We'll show you how feeding and drinking on a consistent schedule can help your puppy with house training.

Crate/Place Training – We'll talk to you about crate-training and the benefits of having a crate for your puppy.

Positive Reinforcement – We'll focus on positive reinforcement and explain the benefits.

Other Tips – We'll also share some tips on curbing common issues such as mouthing, nipping, jumping up and potty training.

---

Dogs Over 5 Months

Learning Manners – We'll help with annoying behaviors like jumping and will show you how to help teach your dog delayed gratification (waiting).

Positive Socialization – It's important that your dog learn how to be around other dogs and how to play nicely. We'll work on these issues and introduce you to ways you can teach your younger dog to accept change, new things and new people.

Basic Behaviors – We'll focus on teaching your dog to sit and stay as well as loose leash walking. Gradually we'll add other behaviors once he's mastered the basics.

Crate Training – We'll talk to you about the benefits of crate training and show you how to introduce this awesome thing to your dog if you haven't already.

---

Bully Breed

As a 'pit bull' momma myself, I understand the negative hype these wonderful dogs get so this class is designed especially for you, your dogs are welcome here!

We'll focus on proper socialization and rewards, basic behavior training, learn loose leash walking and focus on breed-specific training.

---

Loose Leash Walking

Walking your dog doesn't have to be a tug of war or battle of wills!

We can teach you techniques that you can start using TODAY that will make a huge difference in the way your dog walks on leash.
Click this link to see a short video that showcases our dog walking.
Stay positive,
Kelley Stewart,  CEO|Pet Sitter
sit-stay-play In-home pet sitting & more.LLC
What training background do I have?
My experience and training comes from a variety of sources, both hands-on and in class room. Having worked with two of mine own dogs in official basic obedience classes and then going through the Canine Good Citizenship class has helped solidify my knowledge of the skills and topics I offer to our clients.
I am not a 'certified' dog trainer and don't claim to be. What I am is a fully competent pet care professional with skills that allow me to confidently work with dogs and puppies on the topics I present above. As mentioned earlier, if your dog or puppy is exhibiting behaviors that I don't feel I can help you with, I'll refer you to someone who could possibly help you further.
Rest assured, even without the degree and certifications, I can work with you and your dog and get him or her to be a better house mate.