What do pole dancers, plumbers and PhD's have in common? Most of them have pets!!
We're taking a little light-hearted view at what some people call their J-O-B and whatever your views of these professions are are fine by us; hey, we scoop poop, clean up vomit and walk around covered in pet hair most of the time, who are we to judge?
All we know is that people who work in these professions need reliable and compassionate pet care just like the high school teacher, manager of McDonalds, pilot for FedEx and police officer. They have pets, we provide pet care. It's a perfect match!
Why Pole Dancers, Plumbers and PhD's Love Their SSP Pet Sitter
When a female entertainer or pole dancer wants to book a job in another city or get on the dancing circuit in Vegas or New Orleans she has to find someone trustworthy to take care of her pets. She might want someone to stay in her house overnight with her babies to keep them company. She might want someone to visit throughout the day and pick up her mail so she'll hire us for this job.
Plumber Fixes Toilets, We Watch The Dog
Plumbers, especially ones who have their own companies, put in long hours. They're out hustling to make ends meet, unclog drains and install toilets. When our plumber friends need some time off, away from the job, who do they call? Us.
They know we'll do our job effectively and professionally. We'll be there when we say we will. Their pets won't be neglected or forgotten about. They won't come home to dog poop on the floor (unless it's done after we leave). Lord knows they've probably dealt with enough poop while they were at work and that's the LAST thing they want to see when they get home!
Plumbers love their sit-stay-play pet sitter because we make it easy to leave town, go on vacation or help out in last-minute emergency situations. We can pop in to let their dog out to potty or take him for a much needed walk.
PhD's Teaches Students, We Teach Dogs To Walk Nicely On Leash
We have several professors as pet sitting clients and these PhD's expect a high-level of care for their pets, just like our pole dancer and plumber clients.
The PhD might take more vacations and hire us for longer pet sitting jobs, but the care is the same. We provide excellent pet sitting and dog walking services and treat them with respect, just like any of our other clients. What we've found is that many people don't have the time to teach their dog how to walk politely on leash, so that's one of the things that we do.
Your pet sitter here at sit-stay-play won't pass judgment on you for the type of job you have. You could be a cashier at the neighborhood Village Pantry or 711, a doctor, a professor or just a stay at home mom. We don't care. As long as you love your pets enough to make sure they're provided for when you need to be away from home, we want to work with you.
To schedule your pet sitting, dog walking or other pet care service with sit-stay-play, click here.
Our pet care providers are available 24/7/365 and we'll help you live the life you want to live, relieve you of stress, lighten your load a little and give you peace of mind.
Book your pet sitting today!
Kelley Stewart, CEO|Pet Sitter
sit-stay-play In-home pet sitting & more.LLC
Our services are available in Muncie, Anderson, Pendleton, New Castle, Noblesville, Fishers, Indianapolis and Brownsburg. Other areas by request.
About the Author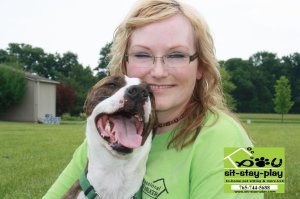 Kelley Stewart founded sit-stay-play In-home pet sitting & more.LLC in 2008. Prior to that, she was a hairstylist, donut maker, towel folder, movie ticket seller, club dancer, hamburger flipper and kennel worker. Not all at the same time of course, lol! She's the mother of one human, 7 non-human creatures and grammy to one precious baby girl. In her spare time you can find her at Planet Fitness, cooking vegetarian meals, vacuuming, detailing her vehicle, transporting animals to rescue or doing community outreach events for pet parents in Muncie, Indiana. Contact her here.
P.S. Ready to start pet care services with us? Fill out this form below and once we receive it we'll contact you to discuss your needs.