Our pet care return home policy allows your pet sitter or pet care provider to know that you made it home safely and that your pet is happy and healthy.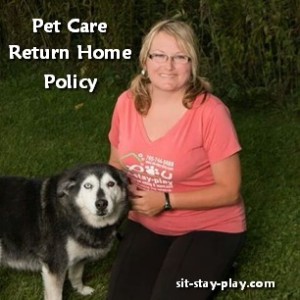 It's a simple text, email or phone call and just signifies to us that our job is complete. Without this, we're left wondering how your pet is and if you're ok.
We ask that all of our clients give us the courtesy to let us know they're home.
Should a client not follow our pet care return home policy and we deem it necessary to make a follow-up visit to ensure pet(s) and property are safe and secure, a $15 fee (plus regular service fees & gas fee if applicable) will be charged to their account. **This additional fee is due within 5 days of your their home or late fees, service fees and postage fees will incur.
Thank you,
Kelley Stewart, CEO|Pet Sitter
sit-stay-play In-home pet sitting & more.LLC
Want to book pet care services? Fill out all 3 of the forms below, hit the SEND button at the bottom of each and once we receive them, we'll contact you to finalize your services.