Muncie Meows, sit-stay-play's kitty focused division, focuses on attracting cat daddies and cat moms that want the best for their feline friends. Whether you have one cat or several, the cat sitters at Muncie Meows can help you out.
We cater to all pet guardians but an emphasis is added to promote the benefits of professional cat sitting services.
Cats in Muncie, Yorktown, Anderson and most areas in between are right up our alley – request cat sitting services today!
Why Choose Muncie Meows?
That's easy: BECAUSE WE LOVE CATS!
But honestly, our professional cat sitters know the in's and out's of getting finicky felines to eat and we know the warning signs for stress and illness.
Our cat sitters love cats and don't mind cleaning litter boxes and the occasional hair ball!
The cat sitters at Muncie Meows know how to give insulin shots, pills and other medication so your cat can possibly stay home versus being boarded at a veterinarian's office.
We're well-versed in cat-talk and caring for lovable felines, as well as obnoxious ones and even outdoor cats and feral kitties.
Call us if you want your community cat colony fed, watered and watched while you're gone. This is a hard thing to get non-cat people to do 🙂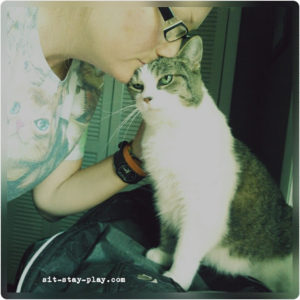 Give Muncie Meows A Call
Cat guardians, relax, you can leave your kitty at home. They'll be content and safe. You won't have to worry about last-minute vaccinations (which is great for elderly or medically compromised kitties). And you won't have to load up your kitty in the carrier and take a ride to the veterinarian, kennel or cattery.
Want To Learn More?
Click this link to submit your initial request for cat sitting services. We'll contact you to discuss your needs and to set up a free initial consultation.
Thanks for being an awesome cat guardian!
Kelley Stewart, CEO|Pet Sitter
sit-stay-play In-home pet sitting & more.LLC
P.S. Don't forget to book your cat sitting visits for summer vacation and upcoming holidays. Our schedules fill up fast and we don't want to miss the opportunity to help you and your kitty.
P.P.S. From March 17 through May 2 we're having a pet sitting and dog walking fundraiser for Action for Animals. When you book services, including cat sitting visits, and you use the promo code AFA2, we'll donate $2 from every visit to Action for Animals. Visit their website to see exactly what they do for stray and unhomed cats in Delaware County. And you can visit their adoptable cats and kittens at Muncie PetSmart!