In light of the Hurricane Harvey disaster, we're asking our friends and community to reach out and help. You can help by donating money to rescue groups, the Red Cross or charity of your choosing. People can volunteer to help collect supplies and ship them to Texas. Or you can even take a big step and actually go there and help.
Giving Back
Being that our company is focused on serving pets and their people, we're donating all funds collected at our upcoming pet nail trim event to the Houston SPCA, which is the 'oldest and largest animal protection organization' according to their website and we'd love your help.
Hurricane Harvey Pet Nail Trim Event Fundraiser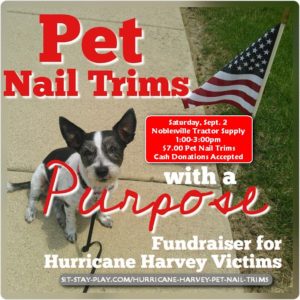 Join us from 1:00-3:00pm and bring cash donations or just stop in and let us trim your pet's nails.
Pet nail trims are $7.00 per pet and please make sure your pet is healthy, friendly and stays on leash or in a crate or carrier while in the store.
If you'd like to donate to the Houston SPCA directly, click here.
Visit their Facebook page for more information.
If you're in or near Houston and need help with your pets or animals, contact the animal rescue disaster hotline at 713-861-3010.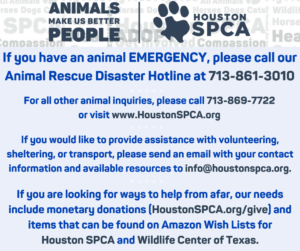 Thank you,
Kelley Stewart, CEO|Pet Sitter
sit-stay-play In-home pet sitting & more.LLC
"Your pet sitting, dog walking, poop scooping specialists!"
P.S. I know a little about what it looks like caring for hundreds of dogs, cats, cows, sheep and horses. In August 2016 I drove down to Gonzalez, Louisiana and helped at Lamar Dixon Expo Center. Cara's House and LSART (Louisiana State Animal Rescue Team) was on hand caring for pets of evacuees staying at the Red Cross shelter and for pets found and surrendered by owners. For three days I sweated, cried and worked my ass off cleaning kennels and horse stalls, feeding and walking close to a hundred dogs just by myself and helping reunite pets with their people. The group of volunteers I worked with was amazing. See this post to learn more about the volunteers who helped Louisiana animals. LSART and Cara's House did an incredible job handling the situation.
It was life-changing. And honestly, if I could drive to Texas right now and help, I would.
Here are a few pictures from my time in Louisiana…