Hey Facebook Fans! Thank you for watching our Facebook Live Video about our free pet nail trim offer. We love helping people and pets and this offer will surely make your pet feel better AND save you some money.
To get your free offer, all you need to do is either print this coupon off OR take a picture or screenshot it and show it to me when you come to an event. Come early because we have limited spots available for our Facebook fans!
No purchase necessary, no gimmicks, and no expiration…just a free service that most pets need at one time or another 🙂
As a reminder, I'm keeping track of all the people I send this free gift to so if you print one off and give it to your friend, they won't be able to use it unless their name is on my list. I'm summoning my inner Santa Claus and you definitely want to be on the GOOD list!
Feel free to share the video or tag someone that might benefit from our offer.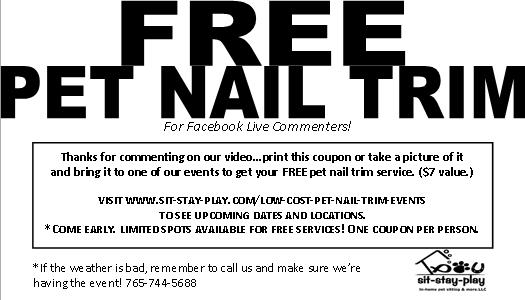 To see all the dates and locations, click this link.
Check back often because I update frequently when new locations are added!
Thanks and I hope to meet you soon,
Kelley Stewart, CEO|Pet Sitter
sit-stay-play In-home pet sitting & more.LLC
"Your pet sitting, dog walking, poop scooping specialists!"