Pet care forms are basic requirements for our pet care clients. They allow us to know important information like allergies, preferences, food amount and house rules.
In order to take care of your pets (and farm animals possibly) properly, we have to get specific information about your pets.
Why Can't I Just Leave Notes Or Send You Texts With This Information?

Because we take care of hundreds of animals, literally.
And notes left by clients are often confusing or hard to read. Getting texts with feeding information can get confusing, especially if you have multiple pets. Imagine getting directions for feeding 4 cats (each with different food and amounts, yet we don't know which cat is which!) – crazy, right!?
Example Of A Incomplete Pet Care Form
Here's an example of a Pet Information Disclosure form that a client left for us recently. They included all four cats on the same form yet failed to give us specifics about each kitty.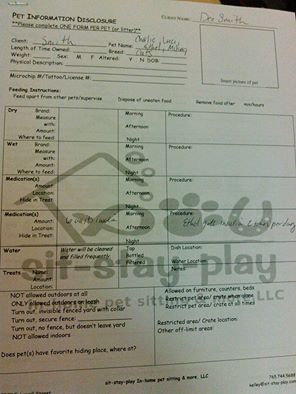 If you look closely at the form above, each kitty is supposed to have their own form.
The four cats are all different ages but we don't know for sure which cat is which. Nor do we know what amount of food they're supposed to eat and how many times a day.
How can we care for the cats properly if we don't have this basic information?
Another Example of A Incomplete Form
Here's another example of a form that wasn't completed correctly.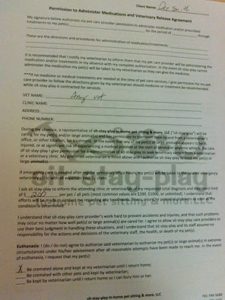 If you notice, the client puts Any Vet in the vet name space.
Does this mean we can take the cats to a vet of our choosing?
They also put $200 for the veterinary coverage but failed to indicate if that was per pet or for all of them total.
What would happen if we took their cat to a vet they didn't like and the bill was just shy of $200?
We want to avoid having to assume where you want your pet taken if an emergency arises.
This is why we ask clients to fill out their pet care forms completely and accurately.
Please put all the information we ask for. We're not asking for this information to be nosy, we're asking so we can take care of your pets the best way we can.
Luckily the forms above were corrected BEFORE we started services. However, this happens quite often if we allow it. That's why we published this article. It's important that our clients know there are reasons we want the forms filled out before we start services.
Having the right tools in our tool box helps us do our job effectively. This helps set us apart from the kid next door popping in to watch your dog or cat.
Professionals will have legal forms in place to protect them, the client and the pet(s), if your pet sitter or pet care provider doesn't have you fill out forms, please consider switching to a professional.
Thank you,
Kelley Stewart, CEO|Pet Sitter
sit-stay-play In-home pet sitting & more.LLC