Is your dog friendly? Bring your canine friend to Muncie's only dog-friendly Easter egg hunt. It'll be fun walking along the White River Greenway with your pal as you help him find dog bones and treats hidden in Easter eggs.
If you've attended our Easter events in the past, read this because things have changed a little this year. We want you to enjoy the afternoon with fellow dog lovers and be prepared for what we're planning for you.
Changes this year: We've shifted from focusing on having games for children and lots and lots of children prizes, to focusing on the 'dog' aspect of the event. We'll have doggie prizes and doggie treats. 90% of the prizes in the Easter eggs will be dog-related, the other 10% will have candy for people. So if you have a sweet tooth, hopefully you'll find some goodies to satisfy your craving! Also this year we're only charging $5.00 per dog instead of charging a fee per person. However, all adults need to stop at our registration table and fill out a form in order to redeem any prizes. Children must be accompanied with a guardian during the entire event. Keep reading to see the 5 tips we think will be beneficial for anyone coming to our dog-friendly Easter egg hunt.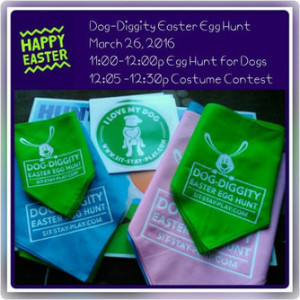 5 Tips For Muncie's Only Dog-Friendly Easter Egg Hunt

#1 – Bring poop sacks! Better yet, take your dog for a fast-paced walk BEFORE you come to the event so he gets all the nervous jitters out before you arrive at the park.
#2 – Keep you dog CLOSE to you — and under your control — AT ALL TIMES. Many dogs won't have leash manners and will run up to say hi to other doggy's to make friends. Some dogs might not like that too well…
#3 – Relax! If you've never been to an event like this and you don't know how your dog will do, I can promise you he'll do better with a RELAXED handler. If you stress out and tense up holding the leash, you'll cause your dog to be on alert.
#4 – Come expecting to have fun (and get some exercise)! That's what this event is about. The focus isn't on getting prizes, coupons, candy and free stuff, all that is nice but we're hosting this event so you'll HAVE FUN with your dog 🙂
#5 – Invite your friends, family and other dog-people! The more people you know —  and the more people and dogs your dog knows — the more fun you'll have. Where else can you go in Muncie and have a blast for $5.00??
Our Dog-Diggity Easter Egg Hunt is mainly for people with dogs. If you don't have a dog but want to come, please do! If you recently adopted a new dog this would be a great time to work on socialization and to work on leash skills. We encourage you to have your photo taken with your dog and the Easter bunny. Don't worry if your dog is afraid, we'll try and get the best picture possible.
After the hunt is over, feel free to walk past the Tillotson overpass on the White River Greenway. The trail ends not far from the overpass and it's a gorgeous walk. You might see Blue Herons, Peregrine Falcons, sunbathing turtles and maybe a Bald Eagle; they have been spotted along White River! Enjoy the Greenway and explore. Biking and blading are permitted (in case you're into those activities).
Muncie's only dog-friendly Easter egg hunt is sure to be a hit this year, don't miss it! Read Westside Park Easter Event here.
See you at our dog-friendly Easter egg hunt!
Kelley Stewart, CEO|Pet Sitter
sit-stay-play In-home pet sitting & more.LLC