Muncie, Indiana dog parents, here's an offer you can't refuse: buy one dog walk, get one free. That's right, pay for one and you'll get another to use anytime before May 1, 2018.
This is a great time to start consistent dog walking even though snow and ice are on the ground. Why? Because dogs, regardless of the weather, need exercise and mental stimulation all year long. It makes them happier and less likely to develop bad behaviors. Don't worry, we'll wipe your dog's paws off after the walk and put on their coat if you have one. If it's too icy or cold, we'll stay close for potty time and play or work on leash manners inside. Your dogs comfort and safety is our #1 priority.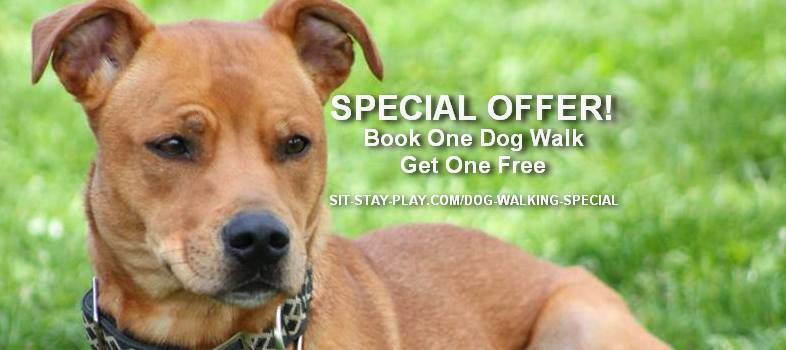 Why Book Dog Walking Services?
Regular dog walking services will help your dog learn to walk better on leash.
Consistent exercise will help hyper and energetic dogs have other outlets to expel their energy. If your dog chews things up or can't hold his bladder all day while you're working, a mid-day dog walk would help.
Overweight dogs can lose weight with regular walking.
Buy More Time For Yourself with this Muncie Dog Walking Special
Booking with us saves you time and money. Think about it. If you're a busy professional and work all day, coming home mid-day to let your dog out to potty is time-consuming and often irritating (don't worry, there's no shame, we understand). You miss taking a lunch with friends or going to the gym and working out. Let us help. Yes, you're spending a little money on your dog but you're rewarding yourself with more time.
Muncie Dog Walking Special Terms and Conditions
Offer good for Muncie residents only. Offer cannot be redeemed with other offers or discounts. Consultation must be completed before dog walking special can be purchased. All dog walking visits must be paid for at time of booking. Services must be completed by May 1, 2018 and be accompanied by the promo code. Request services here.
Helping your dog stay active,
Kelley Stewart, CEO|Pet Sitter
sit-stay-play In-home pet sitting & more.LLC
"Your pet sitting, dog walking, poop scooping specialists!"
P.S. Don't forget, this buy one dog walking visit and get one free offer is only available for a limited time. Use promo code HEALTHYDOG when you book at https://sit-stay-play.com/complete-pet-care-forms-online