So, our 2018 Facebook Halloween costume contest winners have been decided. And man, you all knocked it out of the park this time!!
Can we get a drum roll please….
#27, #21, #20 and also #30 – you all won!
I added #30 since her supporters did such a great job keeping up. In the end, she was only 1 like away from winning – so she gets a prize too.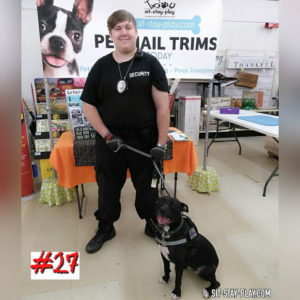 In case you have no flippin' idea as to what I'm talking about, here's the cliff notes:
At each pet nail trim event in Oct. people could bring their pets/kids/groups in to enter the contest
Pictures were posted on Facebook Oct. 28 and ran until Halloween
To vote, you just needed to LIKE the pictures
The top 3 (4) won
Watch this cute YouTube video which shows all 32 of the contestants.
That's it in a nutshell. Very simple costume contest but it was fun and gave us all a reason to dress up.
As a matter of fact, I wore 6 different costumes and still have several on the backburner for next year. Halloween is one of my favorite holidays and I love being able to share it with people and pets.
Why Have a Costume Contest?
Why NOT have a costume contest! Seriously, people have asked me why I had it and the main reason is for the fun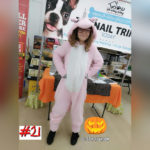 factor. It's fun to dress up. It's really fun to dress your pets up or go as a duo like #27. Well, not all pets like dressing up and some of the pets in the contest didn't come in any festive attire. I edited the pictures with what app (PhotoGrid) I had on my phone to get them in the Halloween spirit 🙂
Since I started this business 10 years ago, hosting pet-friendly events has been a focus. I've wanted to have things for people to do WITH their pets because Muncie, Anderson and New Castle really doesn't offer much other than obedience classes – and not everyone wants to take classes. And cats surely would despise being taken to an obedience class, lol. So these small get togethers I host are perfect purrfect for them.
Like our Facebook page so you can get notifications of when we host events. We have an average of 6 pet nail trim events each month plus around the holidays we have other shindigs.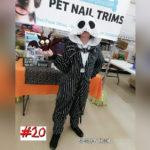 Did you know!?! This month marks our 10th year in business so I'm working on a celebration soiree of some sort and you're invited…but the details have to get worked out first 🙂
In closing, I just want to say thanks for reading and hopefully we'll see you/your pets at our events.
We're available for pet sitting, dog walking, farm sitting and other pet care services 24/7/365. Call for more information or browse around this site. Go here to request pet care services.
If you're an awesome event planner and would like to help plan our 10th anniversary party, definitely call me at 765-744-5688.
Until next time,
Kelley Stewart, CEO|Pet Sitter
sit-stay-play In-home pet sitting & more.LLC
"Your pet sitting, dog walking, poop scooping specialists!"
P.S. Don't forget to like our Facebook page!
P.P.S. Here's the bonus winner!