Are you one of our VIP's (very important pet-parents)? How would you like to earn money with our referral program? Keep on reading to learn the details.
We've built a fabulous pet care company with the comfort of your pets, and your needs, in mind. Since 2008 our pet sitters have cared for exuberant puppies, dogs with severe medical issues, cats with diabetes, blind dogs, deaf cats and rabbits; lots and lots of rabbits! We've been blessed to bring guinea pigs and ratties in for boarding and have cared for free roaming pot-bellied pigs who like a 2:00 p.m. nap everyday.
If you've been a client of ours or you know we have a great reputation in Muncie, Anderson and Indianapolis, we'd love to have you help us spread the word about our business and participate in our referral program.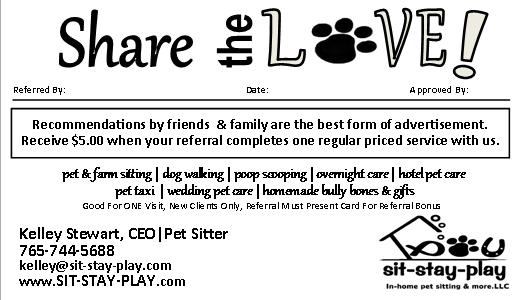 So How Can You Help Refer People To Us?
Easy.
Like us on Facebook, share our posts. Interact with us. Write a short review about the services you've received.
Find us on Instagram and double-tap our pictures.
Add us on Google+, +1 our posts, interact with us, maybe write a review when you get a chance.
Give our Tweets a thumbs up on Twitter.
How To Earn Money With Our Referral Program



Pick up a stack of SHARE THE LOVE referral cards from your pet sitter or pet care provider;
Put your name in the area where it says, 'Referred By' and put the date you give the card out;
Give them to your friends, family, co-workers, anyone who has a pet; and
After your referral completes one regular priced service, you'll earn $5.00.
So how much can you earn in this program? As much as you'd like. Honest. There's no cap on our referral program. If you give out 25 cards to people who have never used us and all 25 of those people use us for their pet care services, you'll get $125.00! Sounds pretty simple, huh?
Why Are We Offering This Bonus If You Refer To Us?
Simple. We appreciate you. We appreciate the kind words you say about us.
And seriously, who wouldn't like a little extra money? We do, that's why we're trying to get more pet care clients!
You could pay off some bills with the extra money or put aside for an upcoming vacation. We can put extra money towards our student loan debt.
You can save money for your Honey Fund, your upcoming honeymoon, your wedding, that week long Vegas trip, to buy Christmas gifts for your kids or just to save money on any pet care service you schedule with us!
Can I Still Refer People To You If I Haven't Used Your Pet Sitting Services?
Yes you can! That's right, with our referral program you can earn $5.00 when someone that you give our card to completes a service with us. Simple right? Just make sure you write your name on each card and the date you're giving them out (if your name isn't on the card, you won't get paid). One thing we ask though if you HAVEN'T used our services; be honest with the person. Honesty is hugely important and we don't want people saying they've used our services if they haven't.
So how do we know if our new client is directly because of you? We ask! Anytime a new client or potential client calls or emails us, we ask where they heard about us. We don't need to steal money from you and want you to earn some extra cash and help you out. Scratch our back, we'll scratch yours!!
So how does this sound? Sound pretty good? We also have a residual income plan in place that will enable you to earn money without any extra effort from you. If you're not sure what that means it means that EACH TIME your new referral completes a visit you'll receive a small commission (for the first three months after their first service).
So let me break it down a little further…
Let's say you have a friend who's been complaining because they have to run home on their lunch break to let their dog out to pee. If they don't, the dog pees on their carpet.
You think, A HA! I have a solution!! I'll tell them how great SIT-STAY-PLAY is and give them a card.
Once they schedule their dog walking/mid-day potty break services and complete one visit, you'll get $5 mailed to you. Boom. That quick. But it doesn't stop there.
Let's say your friend loves our dog walking services and they continue to book with us 3 days a week for the next 3 months. Bam…more money in your pocket thanks to our referral program.
Your Referrals Will Result In:
You having a pretty good chunk o' change
Our client base will increase
Our pet sitters and dog walkers will have extra money in their pockets
More staff needing to be hired
Your friend will enjoy his lunch break instead of racing home
Your friend's carpet will stay pee-free
Your friend's dog will get a nice walk in the afternoon sunshine and can potty — outside!
I Think That's a Win-Win For Everyone, Don't You?



So let's get on it…contact us to get your cards and start sending people our way!
Send a message to schedule services or to pick up your stack of  cards. Gracias!
Make that money,
Kelley Stewart, CEO|Pet Sitter
sit-stay-play In-home pet sitting & more.LLC
Serving Muncie, Anderson, Hartford City, Upland, Fishers, Noblesville, Carmel and Indianapolis