Top 3 Veterinarians In and Near Muncie, Indiana
Are you searching for a new veterinarian? Are you new to the Muncie area and need veterinarian recommendations?
Finding a veterinary clinic that provides excellent services and care you and your pet will need can be a daunting task, but hopefully this article will give you an idea of what to look for when searching for a veterinarian.
The 3 veterinarians that we highlight in this article are who our clients use the most. We went through client files and took note of the most popular vet offices. Of course there are other awesome vets in the Muncie area and we suggest you find the one that works the best for you and your pet.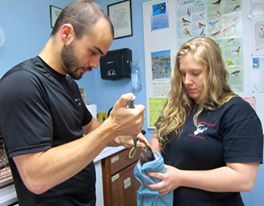 What To Look For In A Veterinarian
Location
Do you need a veterinarian that's close to you or do you mind driving a little? If you have a pet that has chronic health concerns, distance and location could be an important factor.
Business Hours
Do you want a vet that's open on weekends and evenings? Are you good with a clinic that's only Monday – Saturday? Do you want access to your veterinarian clinic 24 hours a day?
Types of Veterinary Services
Do you want a vet that offers everything from high-tech surgeries, x-rays and teeth cleaning? Are you fine with a smaller vet that does the basic pet services? Are you fine with being referred out for surgeries and other emergency or high-tech medical care?
A lot of questions I know. The life and death of your pet depends on having a good relationship with your veterinarian. We want you to feel confidant in knowing you picked the right vet for your needs and hopefully this can help alleviate some of the worries about find a veterinarian.
Top 3 Veterinarians That Our Pet Care Clients Use
1811 Granville Avenue
Muncie, IN 47303
765-284-3393
The operation hours are Mon, Tue, Thur and Fri 7am-6p and Saturday hours of 7a-1p. They're closed Wed and Sun.
They have a wide range of services including: euthanasia and hospice services; dental care; nutritional counseling and x-rays.
Two really interesting things about Maplewood includes their Pet Portal web site where you can view your pet medical history and prescriptions and request refills. Clients don't have to make a visit to their vet to refill their pet's medicine. Another perk they offer is a complimentary exam on their first visit. Often times this helps a potential new client solidify their decision is choosing Maplewood for their veterinary needs.
Many of our clients love Maplewood and can't speak highly enough of Dr. Williamson and his staff. Check them out if you're shopping around for a new vet. Tell them Kelley from sit-stay-play sent ya!
3601 N. Nebo Road
Muncie, IN 47304
765-284-3000
Office hours are as follows: Mon-Fri 7a-7p, Sat 8a-2p and Sun 10a-4p. Many vets aren't open on Sundays and how
many times have you needed to take your pet to the vet but yours wasn't open? Care Animal services many pets on Sunday so if you need to get in, call as soon as you can to make an appointment if at all possible.
The veterinarians at Care provides routine vaccinations, surgeries, the offer pet dental care and also boarding and grooming.
The Caremobile can be scheduled if you need to get your pet to Care but aren't able. There's ample space inside for crates of all sizes and they can also make trips to other vets if necessary.
Three veterinarians are on staff at Care Animal Hospital at the time of this article  and with the range of hours Care is open, lots of our clients choose Care for their vet care needs.
241 E. Jackson St.
Parker City, Indiana 47368
765-468-7313
Business hours: They're closed on Wednesdays and Sundays and are open Mon, Tue, Thur and Fri 7a-5p. More and more people are choosing Parker Veterinary Clinic due to the rising cost of vet care. Dr. Ken and Dr. Terry are awesome vets and they'll tell you like it is. If you're looking for a high-tech, state of the art facility, you won't find it here! What you will find are people that care about you, your pets and helping pet parents.
Parker Veterinary Clinic is just a short drive from Muncie and it's well worth the drive if you're looking for a new vet.
Emergency Veterinarian

3255 North State Road 9
Anderson, IN 46012
765-649-5218
Recently I had a medical emergency with my dog, Boston. Read about his disease and vet experience in this article What Is Immune Mediated Hemalytic Anemia (IMHA).

For after hours care, Northwood is open 24 hours a day and the staff on-hand have the medical skills to work with any type of emergency or problem your pet develops.
sit-stay-play has established relationships with all four of these veterinarian offices and do not prefer one over another. All four are excellent at the type of care they provide and we recommend you try any of them if it's time for find a new vet. Feel free to visit their websites and make your own decision. We trust our clients and their choices and the top 3 veterinarian offices listed here are reflective of our clients and their vets listed on their pet care forms.
If you have any questions, send us a message.
Have a good day,
Kelley Stewart, CEO|Pet Sitter
sit-stay-play In-home pet sitting & more.LLC
"Your pet sitting, dog walking, poop scooping specialists!"