Back by popular demand is our pictures with Santa event in New Castle, Indiana. Bring your pet out or your family out for our annual pictures with Santa Paws event on Sunday, Dec. 3, 2017.
We'll have a great time celebrating the Christmas season by collecting pet supplies for the New Castle/Henry County Animal Shelter and enjoying you and your pet(s).
Your donation of pet food, toys and treats will bring comfort to the dogs and cats waiting to be adopted at the shelter.  Monetary donations and gift cards will also be accepted because the shelter often needs to purchase additional supplies to care for the animals.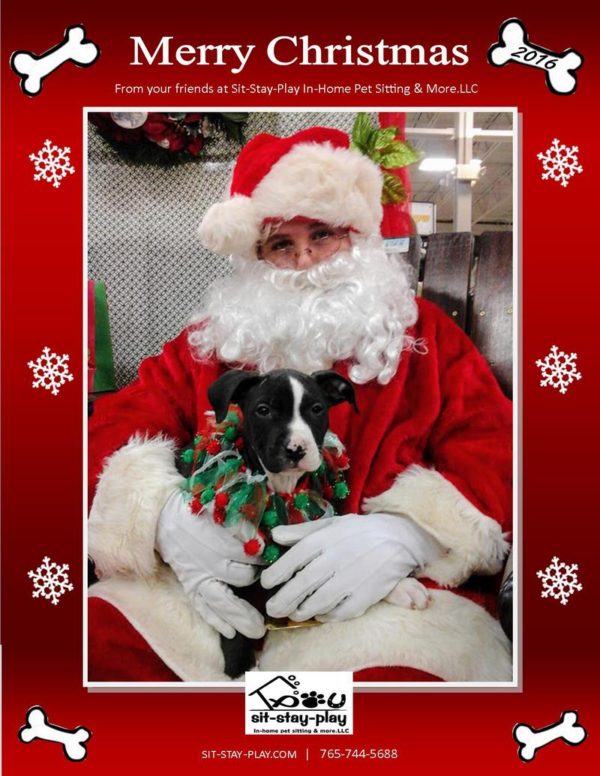 Pictures With Santa Details
Time: 4:00-6:00pm
Cost: $10 (Customers will get all digital copies of their pictures with Santa plus two photos will be mailed.)
Location: 3000 S. Memorial Drive, New Castle, Indiana
This event is open to the public. Anyone with a pet (or without a pet) can stop by for pictures and cookies.
Pet nail trims are $7.00 per pet.
Be sure to share this with your friends, especially if they're in the New Castle, Indiana area.
Enjoying the season,
Kelley Stewart, CEO|Pet Sitter
sit-stay-play In-home pet sitting & more.LLC
"Your pet sitting, dog walking, poop scooping specialists!"
P.S. It's not too late to book your Thanksgiving and Christmas pet sitting visits. Pet sitting is a great option for pets that are older or for people with several pets at home. There's no need to take them anywhere because we come to you. Your pets stay comfy at home and we'll text, call or email to let you know how everyone is doing. Request services here.
P.P.S. We're also having pictures with Santa events in Muncie Sun. Dec. 10 from 4-6pm and Marion Sat. Dec. 9 from 4-6pm.  Stay tuned for more info about those events!