Aww, don't you love the onset of spring and getting your house ready for spring cleaning? The birds chirping and sun peeking out earlier makes me want to get out of bed and start my day with a smile. But, even with the welcoming of Cardinals and Finches and good ol' Mr. Sunshine, there's one thing that doesn't make me smile and that's dog poop in my yard.
Opening your door should bring a breath of fresh air, not a whiff of doggy doo.
Opening your door should mean you can see the irises begin to peek out from the ground or the clematis and trees beginning to bud, not big nasty piles of dog poop smooshed in your yard from your dog stepping in it. Over and over. Gross!!
So let me ask, how is your yard looking? Is it ready for some spring cleaning?
Does it look like a brown spotted mess of nastiness or are you starting to see the grass return to green?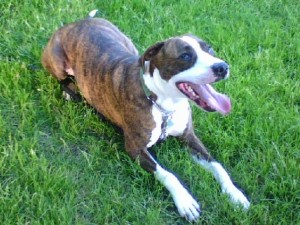 Spring Cleaning and Dog Poop Removal
If you have dogs, it's super important to keep the dog poop cleaned up and I'm not the only one who's writing on this topic. Check out this blog by my pet sitting colleague, Maureen Dunn McCarthy in Indian Trail, North Carolina, she owns Love and Kisses Pet Sitting.
Keeping the dog poop cleaned up is just as important as keeping your dog fed in our opinion. Why? Because leaving dog poop pile up welcomes a host of problems, let me give you 3 examples:
Example 1: Dog poop harbors bacteria that can make them sick if they ingest it. It can also make humans sick. Especially children and people with compromised immune systems.

---

Example 2: If a dog parvo (parvovirus) or giardia and another dog steps in his poo or god-forbid, ingests any of it, they can become sick as well.

---

Example 3: Certain worms that dogs get can be transferred to humans (Zoonosis) if we accidentally step in their poo and we're barefoot or if we pick up something that was once on the infected dog poo.
Those three examples are exact reasons why we recommend you keeping your dog waste cleaned up, especially if you have multiple dogs or children.
How Often Should You Spring Clean Your Yard?
Once you get the initial spring cleaning done, we recommend daily scooping if possible. But we know most people don't have time or don't want to clean it daily so at minimum we suggest once per week.
We do have poop scooping clients who schedule service every other week and let me tell you something, those yards are pretty full when we arrive. You can see where the dogs have stepped in the poop and then of course some of that gets tracked right back in the house. To keep up on it, just hire a poop scooping company.
What Towns Do We Service?
We cover Muncie, Anderson, Chesterfield, Daleville, Middletown, Pendleton, New Castle, Noblesville and the Indianapolis area. Areas outside of Muncie city limits will have a gas fee added to their bill.
How Much Does Poop Scooping Cost?
We have plans starting as low as $20 per week for average size yards and up to 3 dogs. We have a variety of options and we even clean litter boxes and kennels. Click this link to schedule pet waste removal.
A common situation we address often relates to the size of your yard and the number of dogs you have. If you live an hour away, have a huge yard and have 5 or 6 dogs, your rate is going to be higher. You'll have a small gas fee added on top of your regular service and the rate might be higher because the length of time it will take to clean your yard.
If you're ready to tackle your spring cleaning and dog poop removal, give us a call or fill out this form, we'll be in touch within 48 hours.
Off to do some spring cleaning,
Kelley Stewart, CEO|Pet Sitter
sit-stay-play In-home pet sitting & more.LLC