In this article, How To Pill A Cat Using Lunch Meat, we're sharing with you a method that one of our cat sitting clients told me to use to give her kitty thyroid medicine. But, this method did NOT work for me unfortunately. I had to figure out a different method – read about it here.
Does your kitty like shaved ham, bologna, turkey or ham? If so, you can use this tempting treat to fool your cat into taking his medicine. I know, it's a dirty trick, but cat parents gotta do what cat parents gotta do!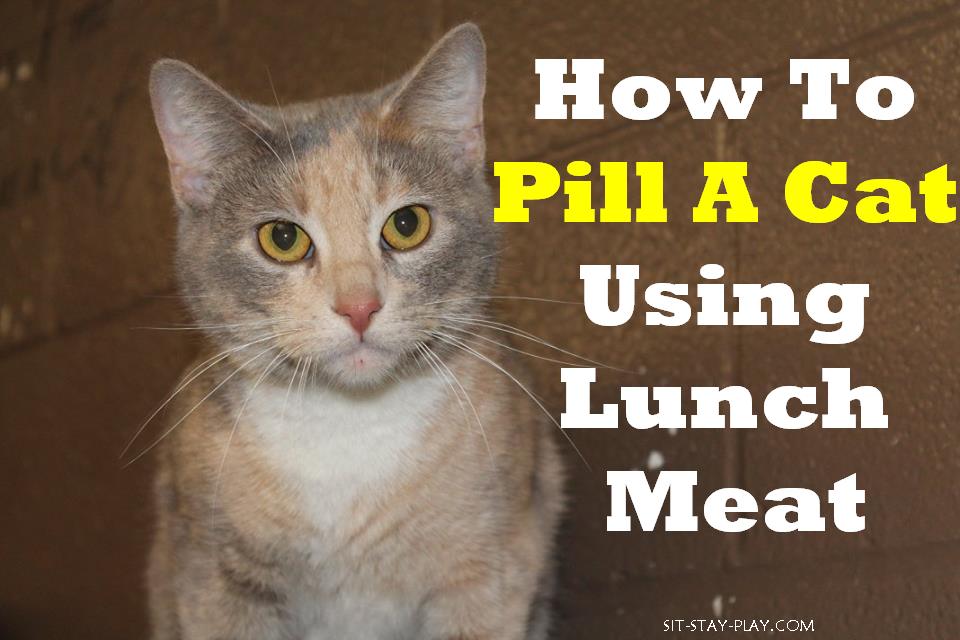 How To Pill A Cat Using Lunch Meat
Step 1
Gather these supplies: the correct pill dosage, a spoon or pill crusher, a plate, a piece of lunch meat and make sure you know where the kitty is.
Step 2
Take the pill and use the spoon to crush it on the plate or use the pill crusher, then poor the powder onto the plate.
Step 3
Tear a small piece of lunch meat and press it into a small portion of powder.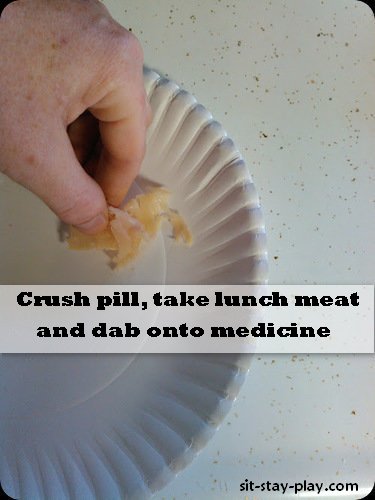 Step 4
Bait the lunch meat! Roll the piece of lunch meat up so the kitty
doesn't see the medicine powder.
Step 5
Continue to do this until all the powder is gone.
Step 6
Put the pieces of baited lunch meat down and hope your kitty eats them.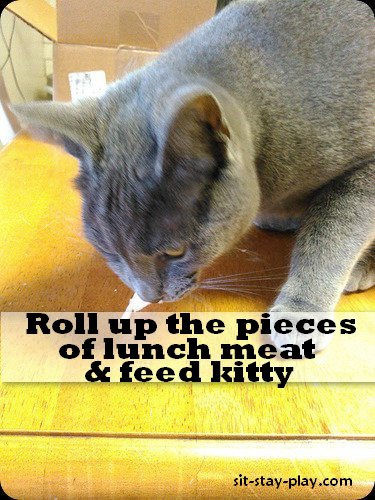 Does This Method Work For All Cats?
No. This method is unpredictable in that you can't ensure the cat will get all the medicine unless he eats all the meat. However, if your furry friend gobbles up turkey, ham or other meat, give it a shot!
My recent kitty client saw through my meager attempts to camouflage his medicine in the turkey. The meat sat on the plate, dried out and he just looked up at me as if to say, "Now what?" This is why it's important to have many tools in your tool box!
Can This Method Work For Other Pets?
Very likely dogs would scarf down the lunch meat (even if there's medicine hidden in it) without hesitation. But some dogs are picky eaters so again, you have to know the dog and know what food he likes.
How Can You Make Sure Your Cat Eats All The Lunch Meat?
That's a good question. You can't force them to eat so making sure the kitty is hungry would be one way you can use this method to pill a cat. Also, if you have other pets you can set the plate and kitty in a separate room (so they don't steal it). This gives the kitty plenty of time to eat it without being rushed.
Can This Method Be Used For All Pills?
No. Certain medications have to be given in a specific way, i.e. on an empty stomach or mixed with food. Be sure to read all the directions before you pill a cat.
Don't Think This Will Work – Need Another Option?
Read this other article, How To Give A Cat A Pill – 8 Simple Steps.
Both methods can work well but you need to know the cat. If you're struggling with giving your cat his prescribed medication, talk to your veterinarian and see if either one of these techniques might work or if compounding or transdermal application can be used.
Please note: We are NOT veterinarians, we are professional pet sitters. These tips and suggestions in this article are not meant to replace what your veterinarian advises. Please contact your veterinarian before using this or any method we present.
Thanks for reading,
Kelley Stewart, CEO|Pet Sitter
sit-stay-play In-home pet sitting & more.LLC
"Your pet sitting, dog walking, poop scooping specialists!"
Serving Muncie, Yorktown, Albany, Gaston, New Castle, Anderson, Fishers, Noblesville and Indianapolis, Indiana areas.