Need to go to the hospital?
There's no need to avoid getting your dialysis, surgery or other medical treatment at Ball Memorial Hospital because you don't have anyone to watch your pets. Our pet sitters at sit-stay-play In-home pet sitting & more can help – contact us now!
Picture this scenario:
You're home watching TV and your chest starts to hurt. It becomes harder to breath and you begin getting light-headed. You call 911.
When the paramedics arrive your dog stays beside you, kissing your face and panting frantically. He watches you get taken away on a gurney and tries to follow.
The paramedics push him back so they can get you in the ambulance. En route to IU Health Ball Memorial Hospital, you tell the paramedics that you really don't want to go to the hospital because you're afraid to leave your dog home alone. They ask if you have anyone that can and you say no.
They recommend you call sit-stay-play to take care of your dog and give you their number.
You feel a slight sense of relief knowing that your dog could possibly get someone to watch him while you're in the hospital.
Pet Care Help Is Available When You're At IU Health Ball Memorial Hospital
Regardless of where you are in Muncie, Anderson, Yorktown and other surrounding Indiana cities, sit-stay-play is here to help care for pets. We can also help with farm animals. If you have chickens, horses, cows, pigs or other livestock please contact us.
Initial Phone Call and Hospital Consultation
Making the initial phone call is the first step to get your dog or other pets the help they need.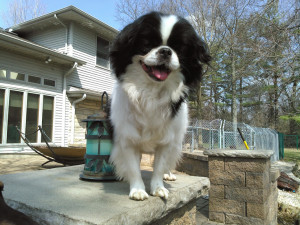 Example of things you'll discuss with your sit-stay-play pet care provider:
Type of pet(s) you have;
How they act with strangers;
Where they go to potty/where litter box is;
What type of food they eat, how much and where;
Any medication or special directions;
Veterinary and pet health information;
Emergency back-up plan in case you need longer services and what to do if something disastrous happens;
Entry procedure and key/code;
Address;
Price of services; and
Length of anticipated pet care.
After some of the main topics are discussed your pet care provider will come to the hospital or other place you are and will discuss things in more depth. You'll complete the necessary forms and waivers, figure out number of visits needed, give house key(s) and payment.
Read about the benefits of hiring a pet sitter.
Payment and House Key
At least half of the estimated pet care bill is due at the consultation. Payment arrangements can possibly be made if you're unprepared to pay the full bill at the consultation. Discuss this with your pet sitter. After payment is received, she'll take your house key and visit your pet.
While you're in the hospital you get periodic updates about her visits. She'll text with pictures of your furbaby. She brings in your mail, takes out the trash, cleans up any pet messes and most importantly, makes sure your dog is comfortable, exercised, fed, watered and HAPPY.
Please Note: In order for documents to be signed, you must read and sign the paperwork (or your Power Of Attorney can complete paperwork).
Pet care help is available regardless of what hospital or medical facility you're admitted to. Please like and share this page if you know someone who could benefit from our pet care services.
Medical Practitioners and Medical Providers
Please keep our services in mind. Your patients might need us one day!
Prepare Now
If you're worried about who will watch your dog, cat or other pet while you're receiving medical care, please contact us as soon as possible. Get registered with our company so in the event something DOES go wrong and you go to the hospital, your pet care is planned in advance.
Our service area includes: Muncie, Yorktown, Daleville, Chesterfield, Anderson, Hartford City, Albany, Pendleton, New Castle, Fishers, Noblesville, Carmel and Indianapolis.
Be Prepared,
Kelley Stewart, CEO|Pet Sitter
sit-stay-play In-home pet sitting & more.LLC
P.S. Ready to be proactive and plan for your pet care? Fill out this form to get started. Thanks!