KEEP CALM AND CALL YOUR PET SITTER
Today starts off like any other week day: the alarm buzzes at 6am, half-awake you hit the snooze and grab 10 more minutes of sleep. Finally you drag yourself out of la-la land and let your dogs outside to potty. You get dressed for work, let the dogs back in, grab a banana and hurriedly make a bowl of oatmeal.
After your belly is full you grab your keys, purse and stash your cell phone in your purse without even looking at it.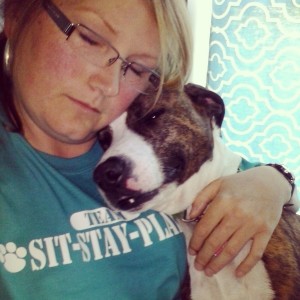 As you begin to walk out the door you have this gut feeling to check it.
To your shock you have 20 missed calls and several voicemail messages!!
You drop your stuff and discover your mom has been admitted to the hospital. Your dad blew up your phone last night and early
this morning. Since you put your phone on silent when you're in bed you missed the calls.
Now don't beat yourself up…lots of people shut their phones off at night but I understand how you feel: I've been in a similar circumstance when my daughter called me really late one night. I missed her calls, texts and emails until about 10am, but luckily her dilemma wasn't one like the family emergency example here…
So what do you do?
First things first, call your dad.
Second, maybe call other family members if you think that's appropriate.
Third, call your job if you have to miss work and stay with your dad and mom.
Fourth, CALL YOUR PET SITTER!
Your pet sitter can help lighten your stress load and can take care of your dogs and your house. You'll be able to focus on getting to your mom and dad as quickly as possible without stressing out about what who's gonna take care of your babies. Your family emergency should take precedent and we can help you.
You don't have a pet sitter? That's OK. You're here now, you're reading this article. Maybe it's time you explored pet sitting options. Ready to give it a shot?
Relying on friends, family or neighbors for pet care can be like rolling the dice. They're gonna have to drop everything they're doing to help and take care of your pets.
Your nice neighbor, friend or relative might have the best intentions and REALLY want to help out but…things can happen. Life happens. People don't love your pets as much as you do.
Putting that pressure on them can be avoided by actually hiring a professional pet sitter, like one at SIT-STAY-PLAY.
Our pet sitting company deals with emergencies like this all the time.
We're experienced in calming the fire and caring for your babies.
We've had people call our office frantic because their neighbor bailed on them at the last minute. Paying that high school neighbor 10 bucks to feed and let your dogs out to potty might *sound* good but in reality, it's probably *not* a good idea.
Please be pro-active and think ahead if you have pets.
The worst case scenario would be devastating to you and possibly your pets. Relationships can be put on the line when you have a friend, family member or neighbor take care of your pets.
Avoid the stress and heartache, keep calm and call your pet sitter.
SIT-STAY-PLAY is your one-stop shop when it comes to pet care.
Not only do we take care of your pets, but your home is cared for as well.
We'll notify you if there's any problems and send you updates and/or pictures of your pets while you're gone so you can relax and take care of your emergency crisis or situation.
Thank you,
Kelley Stewart, CEO | Pet Sitter
sit-stay-play In-home pet sitting & more.LLC
BACKGROUND INFO ABOUT SIT-STAY-PLAY
Kelley Stewart started the business after she experienced a house fire. Her dogs and cats all survived, thank God, but went through about 8 months of being boarded. One dog couldn't be boarded during that time and was forced to stay in a uncomfortable situation until their house could be rebuilt enough for the dogs to go back home.
Seeing how some of her dogs thrived in the boarding situation made her glad that option was available for them. One dog became lethargic, stressed, and started exhibiting unsettling behaviors because of the living situation.
This long 'after the fire' period prompted Kelley to start a pet care company that would be able to do a variety of services for all types of pets.
In 2008 Kelley started SIT-STAY-PLAY and since then it's grown to be a very successful small business. SIT-STAY-PLAY helps hundreds of families a year and loads and loads of pets, farm animals and livestock.
If you're a pet parent looking for something different or you're tired of boarding your pet, give SIT-STAY-PLAY a call at 765-744-5688.