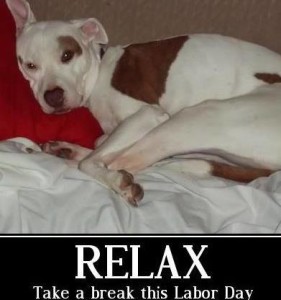 Relax Labor Day weekend! Get a fresh perspective and take a break.
Do you feel like a rat running in a wheel? Do you dread getting up in the morning and going to the same old job, driving in the same old car, eating at the same old restaurants with the same old people? Maybe you need a break, new scenery and  fresh faces.
Labor Day is almost here and there's tons of activities and places you can visit. For example, if you're a music lover, go catch a live band or a concert. Do you like activities like biking riding or roller blading? Those are two activities that get me going and if you haven't been on the Monon Trail in Indianapolis, grab a bike or your blades and hit the trail. Or just drive down to Indianapolis, park somewhere and find one of the bike rental kiosks on the sidewalks.
These bike rental set-ups are great. You pay by the hour or the day, the seats raise and lower  and the bikes are in great shape.
Biking not your thing? How about ziplining! If you don't want to drive to Indianapolis, White River Ziplines in Anderson has a Labor Day special, perfect for new zipliners.
Are you a camper? Mounds State Park in Anderson is beautiful and has great hiking trails. Eagle Creek State Park in Indianapolis is huge and has super trails, plus you can rent kayaks and canoes.
If you just want to take in beautiful flowers or gardens, Minnetrista here in Muncie would be a good choice.
Whatever you choose to do during this Labor Day weekend, don't forget your pets. If you're going camping or hiking, your dog can go along with you. Just take extra water, poop scoop bags, a ball or frisbee so you can play around with your pal.
If you don't want to take your dog with you, we understand. Just call us! Our pet sitters in Muncie, Anderson and South Bend are ready, willing and able to take care of your dogs, cats, fish, birds or any other pet you have.
Give us a call or send us a message to set up pet care services.
Remember, life is too short to be stressed all the time. Relax and take a break sometimes. We're here to help!
Happy Labor Day Weekend,
Kelley Stewart, CEO | Pet Sitter
sit-stay-play In-home pet sitting & more.LLC
Serving Muncie, Anderson, Yorktown, Pendleton, South Bend, Indianapolis