Are you on Facebook?
Well if so, you join almost 2.4 BILLION other people using it per month.
And check this out, almost 1.6 billion people use Facebook PER DAY – crazy, right?!? And right now, those numbers are significantly higher since most of us are stuck at home during this coronavirus quarantine.
Other Facebook Facts
And here's a couple of other interesting facts about Facebook:
About half of the population over 50 years old use it daily
Almost 80% of people are in the 25-49 age bracket
That's a lot of users and a lot of sharing going on!
We don't know where you fall in those demographics but that doesn't matter.
What matters to us is that you like to connect with local businesses like ours.
And when you do connect with us, you'll receive valuable information regarding pets, your city, your state, your health, the world and of course, the occasional funny joke or cat meme.
Connect and Sign Up for Our Email List
We love to share good news that's going on in the Muncie community and important events in the surrounding towns. In doing so, we help connect people and bring awareness to the goodies Muncie has to offer.
Once you like our page, feel free to post comments and engage with us.
Participate in the promotions we run and take advantage of our special offers.
If you find something valuable or funny, please share it!
We Won't Spam You – Promise!
When we send emails out, it's usually to announce upcoming events, to tell you about specials we're running or just to check in. We won't sell your email address to anyone so your info is safe with us.
Sign up for our email list and in exchange you can receive a free gift!
Hop on over to this page and fill out the form to claim your free offer.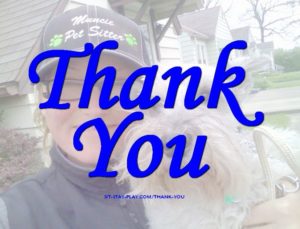 In case you missed our Facebook link, here it is.
And, if you're feeling really happy and generous with the follows and thumbs up, hop on over to Instagram and Twitter.
That's all for now but thanks for reading and we hope to see you on our social media channels.
Have a wonderful day,
Kelley Stewart, CEO|Pet Sitter
sit-stay-play In-home pet sitting & more.LLC
"Your pet sitting, dog walking, poop scooping specialists!"
P.S. We're booking fall and winter holiday pet sitting visits now, save your spot today! Once the social distancing and stay-at-home orders are lifted, sit-stay-play is going to get insanely busy. Don't worry though, we'll be able to take care of your pets but get your requests in soon to save your spot.