When you work with a professional pet sitter you should be asked to fill out pet care forms, if they don't provide forms, run; please do not use that person to care for your pets.
The forms we have you fill out allow your pet care provider to know who they're caring for, what the pet looks like, what type of pets they are, if they take medicine and many other important things.
Common questions we hear during the initial consultation include, "Why do I need to fill out pet care forms? Can't you just come in and take care of my cats?"
In order to take care of the animals in our care appropriately, we have to have specific information about your pets.
Why Pet Care Forms?
Because we take care of hundreds of animals, literally.
The information contained on these forms allows us to know who eats what, when and where. They give us your emergency information and your veterinarian information.
Here's an example of a Pet Information Disclosure form that a client left for us recently…
Do you notice that the form is for 4 cats?
If you looked closely at the form above, each kitty is supposed to have their own form.
The form should have a picture, their age, weight, sex, physical description, microchip number, feeding instructions, type of food they eat, any medicine they take and other information.
The form they left is pretty useless, don't you agree? We don't know what color any of these cats are, if they're male/female, if they take medicine, if they have any behavior issues, if there's specific dietary issues, etc..
How can we care for the cats properly if we don't have this basic information?
Why Do I Need To Fill Out Pet Care Forms?
Here's another example of a form that wasn't completed correctly.
If you notice, the client puts Any Vet in the vet name space.
They put $200 for the veterinary care coverage but we don't know if that's for all 4 cats or just for each one separately.
What would happen if we took their cat to a vet they didn't like and the vet ran the bill up to $200? What would happen if they did have a preference on a veterinarian but instead we took their cat to the emergency vet? We want to avoid having to assume where you want your pet taken if an emergency arises.
This is why we ask clients to fill out their pet care forms completely and accurately.
Please use one form for each pet if the form indicates it.
Please put all the information we ask for. We're not asking for this information to be nosy, we're asking so we can take care of your pets the best way we can.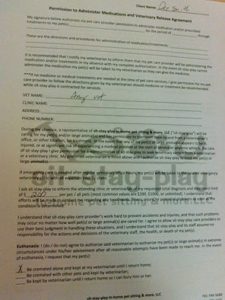 Luckily the forms above were corrected BEFORE we started services but experience tells us this type of thing will happen again. That's why we published this article. Hopefully we can educate potential clients on the importance of these forms. And on a sidenote: if you're using a pet sitter you find on Facebook, Craigslist, Rover, DogVacay or other similar site, please make sure they use pet care forms and that they get all the important information.
If they don't, don't say we didn't warn you.
If you choose to use us for pet care services, you can expect to see the forms above (or ones very similar) before we start caring for your pet(s).
We hope you understand why we need these forms completed and how this sets us apart from the kid next door popping in to watch your dog or cat. Professionals will have legal forms in place to protect them, the client and the pet(s), if your pet sitter or pet care provider doesn't have you fill out forms, please consider switching to a professional.
Thank you,
Kelley Stewart, CEO|Pet Sitter
sit-stay-play In-home pet sitting & more.LLC