Have you made Valentine's Day plans yet? If not, what are you waiting for? You don't have to plan an extravagant vacation or buy a 2k diamond, even a small token of appreciation to your loved one will be appreciated.
Valentine's Day falls on a Thursday this year and that's the perfect time to take your sweetie out to a mid-week dinner. If it's in your budget, make it a 3 weekend and book a pet sitter.
Why do we suggest you book a pet sitter for your Valentine's plans? Because if you plan for their care, you might get better care 🙂

Planning a Sweet Day is Easier When You Don't Have To Worry About Your Pet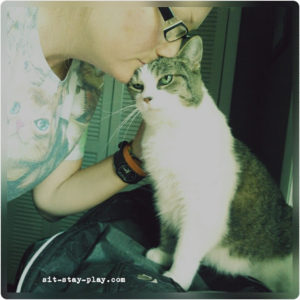 Let's say you want to take your special someone to dinner and a movie but your dog always seems to throw a wrench
in the mix.  He seems to know when you want some time alone with your sweetie and he decides to chew up the couch or bust out of the crate when you leave. If you hire a professional pet sitter, we can help alleviate that problem.
In the past, you might have had to rush right home AFTER dinner to let him out to potty because if you didn't, you'd come home to a golden pond in your kitchen. Instead of going directly from dinner to the movies, dinner is filled with, "Man, I hope Buster isn't jumping the gate" or "Hurry up honey, we need to get home before something bad happens!"
Why Include Us In Your Valentine's Day Plans?
Hiring a professional pet sitter will help make your Valentine's Day plans better.
We'll help you relax.
We'll help make sure your dog is happy and safe so you can be focused on the human in your life, not worried about the pet, or pets, at home.
It still isn't too late to book but you need to hurry because Valentine's Day is right around the corner.
That doesn't give you much time to plan something special but if you can multi-task and know what your special someone likes, I'm sure you can get it done. Book your pet sitting visits today before our schedule is full.
Setting Up Services Is Simple
#1 – Click on the link above and it will take you to the page where you'll fill out a short service request.
#2 – After we receive your request we'll contact you to discuss your needs and schedule a consult.
#3 – Consultations usually fun 30-45 minutes at your home. We'll fill out paperwork, pick up house keys and payment and get your scheduled for services. Super easy!
One quick note: please make sure your voicemail is set up so we can leave a message if you don't answer.
We hope you enjoy your Valentine's Day plans with your sweetie (both human and pet) and look forward to meeting you.
Your friends at sit-stay-play,
Kelley Stewart, CEO|Pet Sitter
sit-stay-play In-home pet sitting & more.LLC
Serving Muncie, Yorktown, Anderson and other areas by request
P.S. Click this link, schedule your pet sitting services and make your Valentine's plans a big hit!!
P.P.S. Connect with us on Facebook, Twitter and Instagram. We run social-only specials and want you to get a deal when you can!