Small business owner in Hartford City, Indiana finds our pet sitting services very helpful. We save her time and money. We help her spend more time with family and less time loading and unloading dogs to take them to a kennel.
No Kennel Needed

Prior to having us care for her home and dogs, she rarely traveled. When she did, each dog had to go to the kennel. That might not seem like a deal but hold on. All of her dogs weighed over 100 lbs and took up the whole back end of her blazer!
Can you imagine taking 9 dogs on individual 20 minute trips to the kennel?
That sounds exhausting just reading it…however, she did it because she had to. Now she just calls us and we go out to her house. The dogs all stay comfy at home. And best of all, she doesn't need another vacation just from loading, driving, unloading, then repeating the process all over again.
Now, our client just calls or emails us with their trip schedule and books their reservation. Easy peazy!
There's no more hair and vomit on car seats. No more hurry home trips because the kennel closes at 5pm.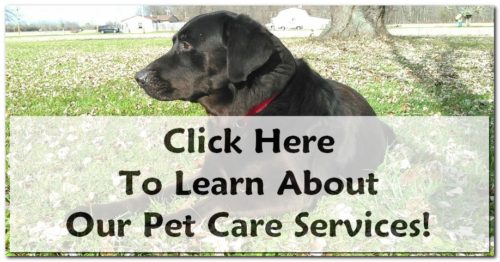 Benefits Our Busy Small Business Owner Experiences When She Uses Sit-Stay-Play
Vacations are more enjoyable;
The family enjoys more time together;
She knows her dogs are safe;
Updates about her dogs are just a phone call away;
Her house isn't vacant when she's gone;
She doesn't have to rush home to start picking up dogs;
Her vacation doesn't have to end early so she has time to pick up her dogs; and
More affordable.
Wouldn't you rather keep your dogs at home instead of taking them to a kennel? If so, please give us a call at 765-744-5688 and we'd be happy to set up a free consultation to discuss how we can help you.
Contact us now to request services!
Not a small business owner? That's fine. We work with all kinds of people from all walks of life. Take a peek at these three clients. All three are different but they had one thing in common: they needed help with their pets.
Master degree student in town to complete an internship gets dog walking help – Client spotlight #1
Lonely 87 year old widow gets help raising her very first puppy – Client spotlight #2
National Guard member on deployment gets help with her dog – Client spotlight #3
Have a good day,
Kelley Stewart, CEO|Pet Sitter
sit-stay-play In-home pet sitting & more.LLC
Serving Muncie, Yorktown, Hartford City, Albany, Anderson and New Castle, Indiana