Small business owner finds our pet sitting services very helpful. We save her time and money. We help her spend more time with family and less time loading and unloading dogs to take them to a kennel.
Take this third client we're spotlighting. She's a successful small business owner and travels quite frequently now that she's found us to care for her 9 dogs!
No Kennel Needed

Prior to having us care for her home and babies, she rarely traveled and when she did, each dog went to the kennel. Can you imagine the bill for that? Needless to say, her pleasure travel trips were few and far between.
From loading each dog up and driving 20 minutes one way to the kennel, just to repeat the process 8 times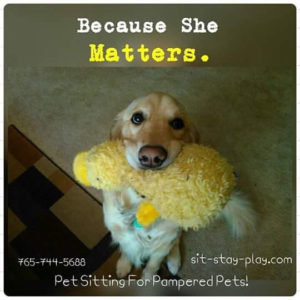 , then another 9 times when she arrived home was a tedious, time-consuming and expensive job.
Now, our client just calls or emails us with their trip schedule and books their reservation. Easy peazy!
No more loading, unloading, loading, unloading. No more hair and vomit on car seats. No more hurry home trips because the kennel closes at 5pm.
Benefits She Experiences
She enjoys her time away from home. She enjoys time with family. She knows her dogs are safe and that they're in good hands with us.
We stay in communication while she's gone; she knows if one of her pups skips a meal or makes a mess in the house.
Wouldn't you rather keep your dogs at home instead of taking them to a kennel? If so, please give us a call at 765-744-5688 and we'd be happy to set up a free consultation to discuss how we can help you.
Read pet sitting client spotlight #1 HERE.
Read pet sitting client spotlight #2 HERE.
Have a good day,
Kelley Stewart, CEO|Pet Sitter
sit-stay-play In-home pet sitting & more.LLC
Serving Muncie and east central Indiana