Want to book services over Christmas, New Year's or other holiday in Muncie, Yorktown or Anderson, Indiana? Awesome!! We'd love to have you as pet care clients and want you to know our policies regarding holidays and holiday reservations.
We observe these holidays: New Year's Eve, New Year's Day, Easter, Memorial Day, Independence Day, Labor Day, Thanksgiving, Christmas Eve and Christmas.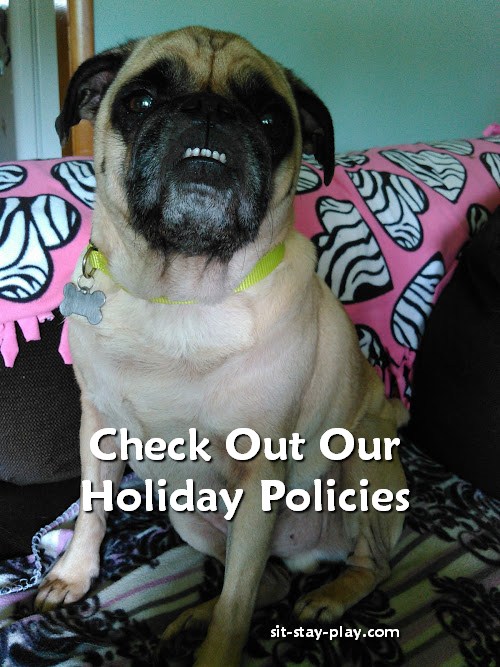 Pet Care Holiday Reservation Policies
Holiday Fees

Holiday Charges: Easter, Independence Day, Memorial Day – extra charge is for the holiday and entire holiday weekend. $5 added for multiple visits per day. $15 added for one visit per day.

Premium Holiday Charges: $8 per visit for multiple daily visits. $15 added for one visit per day. $20 extra per overnight visit.

*Premium holidays include: Labor Day: Friday immediately before holiday to the holiday itself. Thanksgiving: Wednesday thru Sunday. Christmas: Sunday before and everyday until January 2.
Holiday Reservations

Due a minimum of two weeks prior to ensure availability.
Holiday Cancellation Refund

Full refund is given if cancelled 10 days or more prior to the holiday reservation.

50% refund if cancelled 8 days or more before the holiday reservation.

NO REFUND for cancellations made 7 days or less before their scheduled holiday reservation.
These pet care holiday reservation policies are in place because holidays are extremely busy for us. Once a client reserves their spots, we can't accept other clients during that time. Our pet care providers block time out of their holiday to spend with your pet, not their pets, family and friends. They depend on the income from those jobs. If a client cancels at the last-minute, more than likely we will NOT be able to book clients in those spots and our pet care providers will lose the chance to make that income so we have cancellation policies to help cover their income loss.
Depending on our schedule, we might be able to accommodate short-notice reservations.
Please call the office at 765-744-5688 to see if we have availability.
Gas fees apply to areas outside of Muncie.
Thank you,
Kelley Stewart, CEO|Pet Sitter
sit-stay-play In-home pet sitting & more.LLC
See our other pet care policies here.