When winter weather turns frigid, it's best to check your garage door keypad, keyless entries (and other outdoor battery-dependent devices) frequently. This is particularly important if your pet sitter enters and exits your home via the garage.
Recently, I had a run in with garage keypad that wouldn't work. It was -14 and I stood outside for 10+ minutes pressing the keypad numbers over and over. Assuming it was the batteries I tried getting the cover off but couldn't without a flathead screwdriver. Pet sitter 0, keypad 2.
Winter Tip For Pet Sitters: Always Carry a Flathead Screwdriver in Your Car
A flathead screwdriver can be used for various things but this time I used it to pop this keypad cover off (and to pry out the 9v battery since my fingers were froze).
You can also use this handy tool to avoid breaking your fingernail when you're opening pet food. Been there, done that! Bending your fingernail backwards is painful, trust me. I've also had to get creative when a metal screen door was frozen. Using the screwdriver worked to knock the ice off the handle and push back the plunger so I could gain access to the home.
If you're a professional pet sitter or live in your car, keeping random tools around could make your life easier. The need for a wrench or pliers might be sporadic but believe me, it feels good to have what you need when you need it.
Winter Tips for Pet Sitting Clients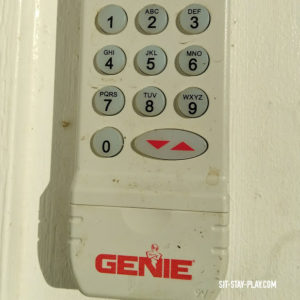 Leave cabinets open so heat can keep pipes warm;
Before you leave cabinets open, remove dangerous chemicals and make sure there's no holes or ways your pets can escape;
Leave exterior light on near doors so if there is a problem, we have light;
Hire someone to plow your driveway and sidewalk so we can enter/exit your home safely;
Make sure to update your client information forms so we know how to get in touch with you AND who to call if there's a house/pet problem; and
Leave heat at a comfortable setting. This should go without saying but some people shut OFF their heat instead of turning it a little lower. This is dangerous not only for your pet, but your pipes could freeze. Lowering the thermostat is fine just don't lower it so much that we see our breath when we walk inside.
Just think, spring isn't that far away. You can start planning your spring break and summer vacations now. Don't forget to request pet car services sooner rather than later.
Ready for spring,
Kelley Stewart, CEO|Pet Sitter
sit-stay-play In-home pet sitting & more.LLC
"Your pet sitting, dog walking, poop scooping specialists!"
P.S. If you drive by a dog or other pets stuck outside in this cold and are concerned about them, please call your local animal shelter, police dispatch or rescue organization. If you're in Muncie, Indiana, call Muncie Animal Care & Services at 765-747-4851 or police dispatch after hours at 765-747-4838.
P.P.S. Are you on Facebook? Like and Follow Us and be sure to look for the 20% coupon on our Facebook page for new clients!