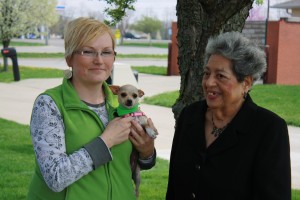 Senior pet owners can face a variety of issues as they get older. Things like taking the dog for a walk, picking up dog food or cat litter and even scooping litter boxes may be difficult. Regular veterinary visits and pet nail trims may be hard. We host 4 free pet nail trim events a year and can also make house calls if needed. Our next event is Friday, Sept. 9 from 10a-12p!
If a person is lucky enough to have neighbors, friends and family to help with the pets then that can make them feel amazing. However, if the adult doesn't have anyone nearby to help, then what?
Pets age right along with their guardian and if the person is able to do what is needed for the pet, neglect may become a factor
However, sit-stay-play is here to help! We're here to help pets AND their people. 
Unfortunately, we see neighbors, friends and family convince the senior to give up their pet. Sometimes it IS NEEDED but other times just having a little extra help from a professional pet care provider could be the answer. Our help could give them a little more time at home, with their best friend and companion.
Do you have an elderly parent or relative that is struggling to take care of their pet?
We understand how important it is for an individual to keep their pet if at all possible. There's proven health benefits of having pets such as lower blood pressure, lower stress, lower anxiety, companionship and purpose. Pets often help people live longer, happier and healthier lives.
How We Can Help Senior Pet Owners
Here are some examples that our pet care providers at sit-stay-play can assist you with:
Pet bathing
Ear cleaning
Litter box cleaning
Yard clean-up (poop scooping)
Vacuuming and minor cleaning around pet areas
House cleaning/organizing/meal prep
Walking/exercising pet
Administering medicine
Transporting pet to/from veterinarian
Assisting with issues common with aging pets
Services to senior pet owners are individualized and are priced on the type of service and the length of time we're with the pet and their owner.
An initial consultation is required before services begin.
Our goal is to have our services available to everyone so we operate on a sliding fee scale for individuals on limited income. Please contact us if you know a person that is unable to provide enough pet care due to age, limited mobility, medical issues or lack of resources.
Thank you,
Kelley Stewart, CEO|Pet Sitter
sit-stay-play In-home pet sitting & more.LLC
Proudly serving Muncie, Yorktown, Anderson, Indianapolis, New Castle, Pendleton, Hartford City, Albany
P.S. We provide mobile pet nail trims to senior communities. If you live in one or have affiliation with one and would like to set monthly services up for the residents, send us a message.
P.P.S. If you're ready to book services for a loved one, feel free to call us at 765-744-5688 or send an email.