Press Release
FOR IMMEDIATE RELEASE
August 31, 2016
MEDIA CONTACT INFORMATION:
Kelley Stewart, CEO
765-744-5688
Kelley@sit-stay-play.com
Muncie Pet Sitter Travels To Louisiana To Help Animal Rescue Groups
Impacted From Devastating Flooding
Trip Was Made Possible From Generous Help From Pet Sitting Clients
(Muncie, Indiana) – Kelley Stewart, owner of sit-stay-play In-home pet sitting & more.LLC, recently traveled to Louisiana to do what she does best; care for animals. Many of her pet sitting clients and friends pitched in and donated pet supplies, pet food and monetary donations to help the flood victims.
Once arriving in Louisiana, she worked alongside dozens of fellow animal lovers from surrounding states and staff from Cara's House, a Sorrento, Louisiana based shelter and LSART (Louisiana State Animal Rescue Team). While volunteering with these two rescue groups, her duties consisted of cage and crate cleaning, dog walking, performing minor grooming, nail trimming and feeding and watering animals. Ms. Stewart also assisted good Samaritan's when they brought in dogs and cats that were rescued from flooded areas or abandoned homes.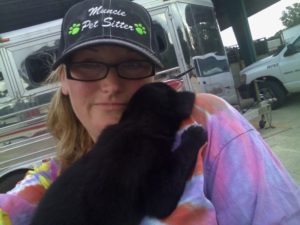 Highlights of the trip include helping pet owners search for their lost pets and hearing people share their stories about their flood experiences. Unfortunately many people lost everything; including all their worldly possessions and beloved pets while others barely made it out with their companion animals and livestock. To read these stories and see pictures visit www.sit-stay-play.com/help-Louisiana-animals.
Since the flood, Cara's House and LSART have maintained temporary shelters at Lamar Dixon Expo Center in Gonzalez. By working together with the animal-loving community including shelter and veterinary teams, veterinary schools, disaster preparedness experts, pet care professionals and volunteers, they've worked around the clock in caring for displaced pets and people.
According to Jolie Culpepper, a representative of Cara's House, as of August 29, 2016, Cara's House has taken in approximately 301 stray pets since the flooding started.  Many dogs and cats have since been reunited with their owners, adopted or transported to rescue groups in other states and parishes. However, each day new animals are brought in and the need for volunteers is great; especially Monday through Friday from 8am-5pm and late at night. Pet safety is the number one priority and they can never be left alone while at Lamar Dixon.
If you would like to donate to Cara's House, here are things they can use: high-quality dog and cat food, cat litter, pet medication, flea and heartworm preventative, crates (all sizes), fans, cleaning supplies, ice donations, human food and drink donations and most of all monetary donations. Donations can be dropped off at Lamar Dixon Expo Center, behind Barn #1. Please contact Cara's House at 225-675-0400 to arrange delivery.
The need is great on all levels; however, the most pressing matter is the need for foster homes. Cara's House also needs support from the public regarding two issues. The first issue is the fact that in order for the repairs to be completed they have to move back into the unfinished building. Depending on the progress of the construction, the staff and animals could be subjected to noisy, unsafe and unhealthy conditions. The second issue is the lower intake capacity. Prior to the flood, their capacity was 200 and generally 5-10 animals came in every day, now Ascension Parish officials are stating only 58 dogs and 55 cats cat be housed at the shelter. This new policy restriction is incredibly low and will inevitably be the cause for many dogs and cats to be euthanized unless help comes quickly; the 90% adoption rate Cara's House has worked hard to achieve and maintain will plummet.
Fosters are desperately needed. Local rescues and shelters that can help with the influx of animals are urged to contact Cara's House immediately. Concerned people and tax-paying citizens living in Ascension Parish are urged to speak out against these new policies. Contact Ascension Parish president, Kenny Matassa at kmatassa@apgov.us or by phone 225-450-1012 or Ken Dawson, CAO, kdawson@apgov.us or by phone at 225-450-1136.
To learn more about Cara's House, find information about volunteering and see recent updates of displaced animals in their care; visit their Facebook page at www.facebook.com/carashouseascension.
About sit-stay-play
sit-stay-play in-home pet sitting & more.llc is a fully insured professional pet care company located in Muncie, Indiana. Their pet care providers have a passion for helping pets in need, whether that's through work, volunteering to drive cats to their spay and neuter surgeries, they're always looking for ways to help companion animals. sit-stay-play plays an active role in the community and hosts monthly low-cost pet nail trim events in Muncie, New Castle and Anderson and volunteers with the Muncie Animal Shelter.
Upcoming events include:
Saturday, September 3; Anderson, IN; Pet Nail Trims at Tractor Supply
Sunday, Septmber 4; Muncie, Tuhey Pool; Drool In The Pool
Sunday, September 11; New Castle; Pet Nail Trims at Tractor Supply
More events are scheduled from September through December, please visit www.sit-stay-play.com, call Kelley Stewart at 765-744-5688 or visit their Facebook page at www.facebook.com/munciepetsitter.
# # #
 About Cara's House
Cara's House is an open intake animal shelter for Ascension Parish. They cannot turn animals away nor limit the number of animals they receive. Their goal is to only euthanize terminally ill or aggressive animals but do euthanize if space is limited. Cara's House is under contract with Ascension Parish to provide care to unwanted, abused and abandoned dogs and cats that the parish animal control brings in. Cara's House provides testing, shots, medical treatment, microchipping and spay/neuters for the animals in their care. (Courtesy of Cara's House Facebook Page)
About LSART
LSART is a volunteer organization whose mission is to prepare and train for emergencies that affect animals, and to provide assistance in response and recovery when disasters occur. LSART is a division of The Dr. Walter  J. Ernst, Jr. Veterinary Memorial Foundation, a 501©3 nonprofit organization. For more information about the organization and their activities, visit www.lsart.org. (Courtesy of Press Release dated September 18, 2009)