Did you stop by and get kisses by SonnyRoo at Bark For Life 2016? We had a kissing booth set up and lots of people had their ears cleaned and cheeks licked and chins nibbled – all free of course! Bark For Life of Delaware County had another great turnout with several local pet businesses, including ARF (Animal Rescue Fund), Happy, Clean and Smart, Wagglebottoms, sit-stay-play In-home pet sitting & more.LLC, MOTC (Muncie Obedience Training Club), Advanced Canine Techniques, Over the Rainbow Dogs, South Anderson Veterinary Clinic, Country Critters Veterinarians and Animal Medical Center. Mid-West Metals did a fantastic job organizing and hosting this event. A big shout out to Tara Whitehead, Tiffany Meyer and all their helpers and volunteers.
Kisses By SonnyRoo At Bark For Life 2016
This was our second year in attendance with our Kissing Booth and once again #SonnyRoo proved to be wildly excited to be there.
If you went to this event, please feel free to share this post with your friends, family and animal-lovers, we want to share the love and promote dog-friendly events like this.
What is it? Here's an excerpt from their website:
MidWest Homes for Pets is excited to host Delaware County's third annual American Cancer Society Bark For Life event! Bark For Life is a fundraising event that honors the care-giving qualities of our canine "best friends." It presents an opportunity for people to be empowered through their canine companions and contribute to cancer cures through the mission of the American Cancer Society. At Bark For Life, families and their dogs come together for a few hours to celebrate cancer survivorship (human and canine), to honor those that have been lost to cancer, and to fight back against a disease that takes too much. The event is filled with family-friendly activities, music, food, and doggie demonstrations. The dogs' wagging tails make Bark For Life a happy and meaningful community event to support the mission of the American Cancer Society.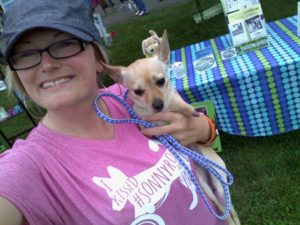 If you've lost a loved one American Cancer Society might be a resource you could benefit from. Visit their link above to find out more.
Thanks again MidWest Homes For Pets, you did an awesome job and raising approximately $12,000 is incredible!
Kisses by SonnyRoo,
Kelley Stewart, CEO|Pet Sitter
sit-stay-play In-home pet sitting & more.LLC
"Your pet sitting, dog walking, poop scooping specialists!"
P.S.  Want to get some #SonnyRoo goodies? When you purchase one of these items, $1.00 will be donated to help the kitties and doggies at the Muncie Animal Shelter.
We have our 'I Kisses #SonnyRoo And I Liked It!" t-shirts on sale for $15.
Our #SonnyRoo bumper stickers are $5.00.
And our #SonnyRoo coffee mugs are available for purchase for $10.
Contact us to place an order.