Over 60,000 homes and businesses were affected from recent Louisiana flooding and Mader, a Chihuahua-Dachshund mix, found safety after swimming from her flooded backyard to the highest point she could reach – the Harley Davidson motorcycle seat!
Dog Saved By A Harley Davidson In Louisiana Flooding
While it's hard to comprehend the emotional turmoil a pet parent goes through when they make the decision to leave their pets and farm animals behind when their neighborhood is flooding, that's exactly what happened a little over a month ago in Denham Springs, Louisiana.
Mader, a little red dog, her two doggy brothers and several goats were left in the backyard when the flooding started. Their mom didn't expect it to rise much further than it was when she left but boy, was she wrong! The overnight bag she packed was far insufficient and after several days, she finally got the clear to head back home.
Thank Goodness For Neighbors!
Denham Springs was hit really hard with an influx of fast-moving water and many of the homes in the area quickly took on several feet of the murky stuff. This is exactly what happened at Mader's house. Luckily the next door neighbor saw Mader and her other two dog brothers on chains in the backyard and she came over and gave them freedom. The goats that were in the pen were never found but Mader and her buddies (who were found several miles away) did survive.
Moving Forward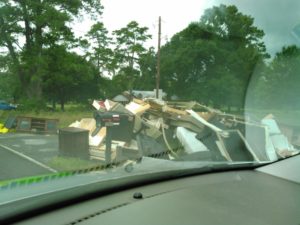 I met Mader and her mom at Lamar Dixon Expo Center when I went down to help after the flooding. Mader was just this little ball of happiness and full of body wags and kisses. Mader's mom told me once she was able to get back to her home, she was devastated by all the damage. The neighborhood looked like a war zone; trees were down everywhere, houses were destroyed, cars were waterlogged.
The water was up to her waist in most of her house and when she walked into the garage and saw Mader standing on the motorcycle seat, she was ecstatic. She's grateful that she went there that day and not the next because the water might've been higher and Mader might not have survived.
We continued talking about her stay at the Red Cross Shelter. I asked if she was pleased with the way LSART (Louisiana State Animal Response Team) cared for Mader and she got teary-eyed. She said she was extremely grateful for the generosity and care. As we were talking she loaded up her arms with dog food, new leashes, water bowls, flea medicine, dog toys and treats – all donations – and was on her way to FEMA housing.
Their home was classified as a total loss and surprisingly, she's the only person I spoke to who had flood insurance.
Your Donations Of Pet Food And Supplies Are Still Needed
At the date of this posting, Cara's House, the Louisiana animal shelter that I went to help, still has dogs and cats at Lamar Dixon. Donations are constantly needed. New animals arrive daily and when pets are adopted or reunited, pet supplies are sent home with them.
In fact, all shelters and rescues can use the help. Areas like Louisiana who are still trying to rebuild REALLY need it. So if you're looking for a way to give back and you can't physically get down to Louisiana to help, donate. Visit their Facebook page. Donate money or order pet food and ship it directly to Barn #1 at Lamar Dixon Expo Center.