Hey Ball State students and faculty, it's about that time of year again! Time to start classes, rearrange your work schedule to fit in classes and figure out who's going to watch the dog. Don't worry, we've got you covered in the pet care department!
Ball State Students, We've Got You Covered

Ball State students, we want you to know we're here to help you with your pet care needs, we can take of dogs and cats, birds, small caged animals such as chinchillas, gerbils, rats and even snakes. If you have fish that need tended to, we can even stop by and feed them when you're out of town.
We have clients at Varsity House, Vie, University Estates, Walnut Manor, Colonial Crest and most other apartment communities in town.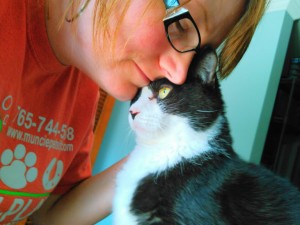 Services We Offer
Do you have a new puppy or are you thinking about getting one? We can help with potty training, potty breaks and puppy training and dog walking. Students, while you're in class you won't have to worry about your pet, we'll take care of him for you!
Ball State faculty, we have several professors and maintenance employees who trust us to care for their dogs and cats while they're out of town. If you're needing help, contact us and we can discuss your needs.
Scheduling Is Easy
Our services are affordable and dependable. We give discounts to Ball State students because we know your hard earned money needs to s-t-r-e-t-c-h so you'll be able to take care of all the necessities of college-life. Your pet can be taken care of and you won't have to feel guilty or worry about anything.
Click here to visit our website or feel free to send a message.
Hope to see you and your furry, feathered or finned friend in the future,
Kelley Stewart, CEO|Pet Sitter
sit-stay-play In-home pet sitting & more.LLC
"Your pet sitting, dog walking, poop scooping specialists!"
P.s.  We're Hiring! Do you loves animals? We're looking for dependable & compassionate individuals to join our team. We have part-time flexible hours available. Click HERE to see our employment page. Need to put in some volunteer hours for your sorority, fraternity or social club? Do them with us!! We'd love the help 🙂